Reading in the news - Wed 1 Apr
01 April 2020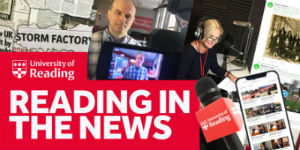 COVID-19:
Citizen science: BBC News and Yahoo! News report on the success of Rainfall rescue, a citizen science project led by Prof Ed Hawkins (Met).
Children's brains: A project led by Prof Patricia Riddell (Psychology) to train newly qualified teachers on how children's brains develop is covered in Times Educational Supplement.
Other coverage
An obituary for Professor Colin Gray from the Department of Politics and International Relations appears in the Telegraph.