Students exercise their way around the world without leaving home
01 April 2020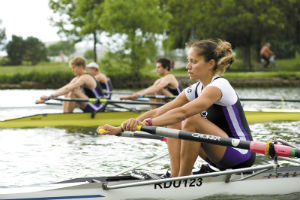 Fifty students from the University of Reading are battling the boredom and keeping fit during the coronavirus pandemic by rowing, cycling and running around the world virtually.
Members of the Reading University Boat Club coaching team have set themselves the challenge to virtually cross the planet within 80 days.
And their challenge has been given a boost with support from famous former club members, two-times Olympic gold-medallist Alex Gregory MBE, and Olympians Sam and Tash Townsend.
The epic 40,000km challenge will see participants taking it in turns to row, cycle and run their way around the world, following the same route that Michael Palin took in 1988, when he famously followed the route plotted out in Jules Verne's epic 1872 novel, Round the World in 80 Days.
Members of the University's boat club, ranging from absolute beginners to Great Britain U23 team members, are taking part in the challenge, which aims to provide them with a structured fitness regime while their usual training schedules have been disrupted.
Will Rand, the University's Director of Rowing, said: "In these testing times, it is important that we continue to support our students to stay physically active and mentally fit.
"The team are aiming to complete around 500km per day, and we will be using the time each person logs to build up the total, for example one hour of exercise will equate 15km, which is what you would expect to do in a boat. Activities like yoga don't cover any distance, but are still important because it's good training and we wanted it to count."
The team will be logging their activities on fitness social network Strava and plotting their progress on a map.
Will said: "We'll be having a weekly round-up of where we have virtually been, and we're hoping to link that with themes that the students can all join in with so they can feel more connected. So, if we end up in India we may have an Indian meal and all watch a Bollywood film."
At the end of the challenge's first week, the team have already reached Crete, in Greece – on a par with Palin's efforts.
Starting in London, the virtual journey took them through Folkestone, Innsbruck and Venice. They passed through Athens and made it to the island of Crete. They are currently having a quick rest in the seaside town of Pachia Ammos, before cracking on again.
Double Olympic gold medallist Alex Gregory sent the tam a good luck video message.
He said: "Good luck everyone at RUBC on your round the world challenge, every stroke counts!"
Husband and wife rowing duo Sam and Tash Townsend added their support in a video. Sam said: "Now that the racing calendar has pretty much been cancelled, we just wanted to wish you luck on your round the world challenge, good luck guys."
· To follow the team's progress online, visit https://www.readinguniversityboatclub.co.uk/news