Reading in the news - Thu 2 Apr
02 April 2020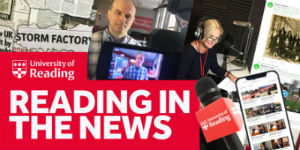 COVID-19:
Curiosity study: Curiosity can bias our decision making and promote risk taking, according to new research by Reading scientists. Nature reports on the new findings. Read our story here.
Flooding: Prof Hannah Cloke (Geography) was quoted in The Guardian for an article on the use of natural flooding solutions in the UK.
The butterfly effect: Prof Tom Oliver (Ecology and Evolutionary Biology) has written a piece for Systems Thinking, the Cabinet Office blog on conservation research and policy-making.
Other coverage
Dr Miriam Clegg (Human Nutrition) has co-authored a blog for The Conversation on research into appetite suppression. The blog was reproduced on Yahoo News.
The Wokingham News reports on the call for volunteers for Rainfall rescue, a citizen science project led by Prof Ed Hawkins (Met). This story has also seen some pick-up on US state radio stations, with Ed being interviewed.
The Telegraph has published an obituary for Colin Gray, a former Professor of International Relations and Strategic Studies at Reading.
Prof Lindy Grant (History) has written an article for History Extra on Eleanor of Aquitaine.
MBA.co.za reports that Henley Business School South Africa is to share all its virtual education and insights for free with public and private South African universities and business schools, during the coronavirus crisis.
SC Magazine reports that Reading is one of the UK universities where students can study cyber security.
Dr Rebecca Bullard (English Literature) was interviewed on BBC Radio 5Live discussing author Daniel Defoe and his book The Plague.