Expert comment: COP26 Climate talks postponed until 2021
02 April 2020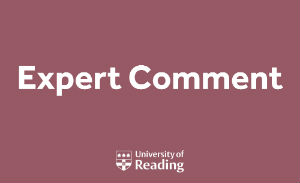 Professor Chris Hilson, professor of environmental law at the University of Reading said:

"Delay seemed inevitable to me. You need preparation for these sorts of big events - by the host country and by those attending. Even if we're out of lockdown by November, governments worldwide will still be sorting out the fallout of the current Coronavirus crisis. Holding it remotely would not have produced the world attention it needs, and even that would have required significant preparation.
"But governments should not be delaying their actual action and planning on climate change: that show must absolutely go on, even if the actual COP meeting does not. The biggest risk is thinking that we now can't afford climate change measures because the economic recovery from the Coronavirus crisis has to come first.
"Government and industry - including the US, China and carmakers in the EU - are already seeking to slacken off vehicle emissions standards for just this reason. This is penny wise but pound foolish: climate change is itself expected to produce huge costs if not tackled soon, and urban air pollution is also already responsible for millions of premature deaths across the world every year. The only difference is that those deaths are less visible than the daily Covid-19 figures that politicians can't easily ignore.

"What government should be doing instead is to make state support for businesses conditional on them committing to meeting climate targets. They also need to use weakened oil prices to remove fossil fuel subsidies.

"The physical reduction in greenhouse gas emissions, caused by the widespread industrial and transport shutdown in response to the virus, has been widely noted. This is, however, a temporary, one-off win, which is also true of the equally widely observed co-benefits such as cleaner air (notably in Chinese cities) and water (such as in Venice's canals, freed of water traffic and cruise ships ) and improved nature conservation (through lower human interference because of lockdown).

"The question remains whether it will produce the necessary longer-term change needed to tackle climate change. In fact, the climate imaginary provided by the shutdown could indeed help shape a longer-term response, because it has shown us what a climate friendly future might look like. This imaginary, with closed airlines, empty roads and shopping malls, consumption reduced to the real essentials, and videoconferencing and home working, forces us all to question our previous, taken for granted, way of life."

Professor Keith Shine, Regius Professor of meteorology and climate science at the University of Reading said:

"This is the right decision for the right reason. However urgent the climate situation felt, even a few weeks ago, I don't think we can expect those at higher levels of government to properly focus on that issue until the more immediate crisis shows signs of being under control."

Professor Andrew Charlton-Perez, head of the Department of Meteorology at the University of Reading said:

"The delay of COP26 until 2021 is a sensible and prudent decision, allowing governments around the world to focus both on fighting the COVID-19 pandemic and giving time and space to consider how to make the next COP truly effective.

"This shouldn't delay the urgent climate action that both the scientific community and the public have been calling for, with renewed purpose over the last 18 months. The climate crisis needs to be fought with the same energy and government focus as has been demonstrated in recent weeks, making effective policy based on high quality scientific advice."
Professor Richard Allan, Professor of Climate Science and IPCC author, said:
"It is the right decision to postpone COP26 - the world needs to get this meeting absolutely right to meet the ever more challenging task we face of avoiding dangerous climate change.
"It goes without saying that postponement must not slow down the actions that are vital in reducing and eventually removing greenhouse gas emissions that are driving warming of climate, melting of ice, sea level rise and the intensification of flood events and heatwaves.
"The Intergovernmental Panel on Climate Change, to which my colleagues and I at the University of Reading are contributing, is at this very minute continuing to assess the state of the art in climate science for the upcoming 6th assessment report as the current situation relating to COVID-19 unfolds.
"This pandemic also presents an opportunity to make the vital changes to how we work and live so that we follow a less dangerous, lower carbon path. From reducing polluting travel by holding virtual meetings to appreciating the real value of the core supporters of society like health services above less valuable but more polluting economic activities are examples of where a change in mind set can lead to long term benefit for people.
"We can all see how quickly society can be impacted and how governments can act in the face of the current global emergency, and climate change is also an immediate emergency but on an even larger scale. In fact it does not bear thinking about how a future world crippled by climate change will be able to cope with the next pandemic that hits us."
Professor Rosalind Cornforth, Director of the Walker Institute at the University of Reading, said:
"It is of course disappointing that COP26 has been postponed until 2021. This COP was intended to be a significant milestone for ramping up ambitions for emissions reductions, after five years of intricate negotiations towards ironing out the Paris Agreement.
"However, this decision is the right one. The Covid-19 pandemic poses a huge threat to us all and public health and safety must come first.
"Furthermore, for an effective and truly ambitious COP the UK Government would have needed to conduct continuous diplomatic negotiations throughout the year, which is not possible in the current pandemic. Postponing the COP provides time for these negotiations to take place and for several key particulars of the Paris Agreement to be discussed prior to COP26.
"Depending on the postponement date in 2021, the sixth assessment report of the Intergovernmental Panel on Climate Change (IPCC) may be published before COP26. Given the impact that the IPCC report on 1.5°C of warming had, this latest report has the potential to stimulate global aspiration and action. Diplomatic opportunities to build momentum next year also include the G7 and G20 summits, hosted by the UK and Italy respectively, with slightly more breathing space following the outcome of the US Presidential election in November 2020.
"Ultimately, governments must not use this postponement as an excuse to take the foot off the accelerator on climate action. 2020 is still a significant year for updating countries Nationally Determined Contributions (NDCs) and ramping up ambition under the Paris Agreement.
"As we witness ecosystems recover and emissions decline during this period of self-isolation, this additional time before COP26 should be used to reassess our lifestyles and approaches to working. Creative alternatives to conferences and distance learning now in place should not be forgotten as we all try to curb our air miles and greenhouse gas emissions.
"Governments responding to Covid-19 should build economic stimulus packages which deliver for the climate and focus on supporting the most vulnerable, many of whom are already under climate-stress. Lessons on effective, evidence-based global action can be learnt from the current Covid-19 crisis. Let's hope the global community comes out of this crisis with a renewed confidence that we can work together to tackle the biggest challenge facing our planet and future generations – the climate crisis."