Reading in the news - Tue 7 Apr
07 April 2020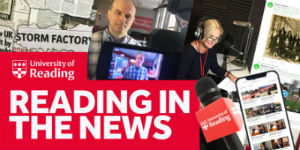 COVID-19:
Dr Simon Clarke (Biological Sciences) spoke to TalkRADIO and Sky News (and here) and his comments are picked up by Mail Online and Express; and was quoted in Daily Mail on case numbers; also in the Daily Mail on why Covid-19 causes fatigue, and in a Mail Online explainer on terminology to do with the coronavirus; BBC News, Independent, The Week, IBC and spoke to BBC Foyle on a conspiracy theory over 5G masts; and Yahoo! News on face masks.
Sky News online reports on the development of a potential vaccine for Covid-19, and quotes Dr Al Edwards (Pharmacy).
Prof Ian Jones (Biological Sciences) is quoted in IFL Science on face masks.
CGTN spoke to Visiting Research Fellow Dr Ben Neuman (Biological Sciences) about makeshift manufacturing of PPE in a French hospital.
An article for The Guardian reports on student feeling about Covid-19 and the impact on their student experience. A UoR student is quoted.
Dr Mark Shanahan was interviewed on BBC Berkshire about PM Boris Johnson being admitted to hospital over persistent Covid-19 symptoms.
Parliament: Dr David Rose (Agriculture) writes for Research Professional about a new study on the need for academics to assist in the development of policy in parliament, and help MPs scrutinise of Govt. Read our news story about the new study here.
Other coverage
The Tablet reviews Tom Oliver (Biological Sciences) new book, the Self Delusion.
A study on bilingualism and brain development led by Dr Christos Pliatsikas (CINN) is covered in Medicalxpress.
Dr Tara Pirie (Biological Sciences) writes for the Conversation about Netflix show Tiger King, and spoke to BBC Berkshire.