Student DJs bring dancefloor home to lift spirits in lockdown
07 April 2020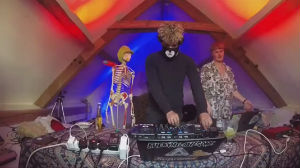 Two creative students are beaming club nights into kitchens with a new radio station to help lift spirits during the COVID-19 pandemic.
University of Reading students Harvey Dryburgh, 21, and Freddie Mann, 22, are streaming live sets from international DJs through their internet radio station, Rona Radio, to people around the world who are staying home to prevent the spread of the coronavirus.
Rona Radio aired its first live stream on Friday 20 March and has been broadcasting live DJs every evening since then. The online platform is growing in popularity, with 5,000 people tuning into its highest viewed stream, and has attracted well-known international DJs.
Harvey, a second-year Henley Business School student, and Freddie, a second-year Construction Management student, both already work in the entertainment industry alongside their studies. Freddie DJs at student nights in Reading while Harvey does club promotional work. They have been using their existing contacts to reach out to established DJs to help get the platform off the ground.
Both students are currently staying at home - Harvey with his family in Devon, and Freddie from his student house in Reading, where he provides live sets from the kitchen.
Speaking of their success to date, Harvey said: "We initially set this up as a bit of fun but have seen the popularity of the live streams grow massively since starting it just over a week ago. We encourage all participating DJs to follow government guidelines on social distancing and self-isolating. The whole premise of our platform is that we are providing entertainment to people who are in isolation, so it is only right that we promote this behaviour from our DJs."
The project is not-for-profit, although the pair hope to use their experience to set up their own events company in future.
Last week's line-up included Dutch DJ, Mason, who performed a two-hour set live from Amsterdam, Mind Enterprises, a well-known Italian DJ from Turin, where he is currently in lockdown, and DJ Ziggy Phunk live from Denmark. The famous German DJ, Mousse T, has also provided a pre-recorded mix, and DJ Benjamin Ferreira will be playing live this evening from Sao Paolo, Brazil.
Rona Radio is also hoping to raise money for an NHS support charity and has set up a JustGiving page.
To tune in for free visit: https://www.facebook.com/RonaRadio/