Palm oil and lab-grown protein: new online course gives insights into food system controversies
08 April 2020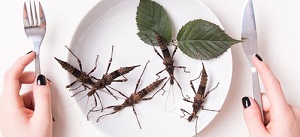 Consumers worried about the use of palm oil in foods or the growing trend of lab-grown meat alternatives will be benefit from a new course providing insights into 'controversies' in the food industry.
The free online course brings together experts from the University of Reading, the University of Turin, the European Food Information Council (EUFIC) in a project funded by EIT Food. Over three weeks learners will learn about how the food industry is developing and engaging with topics including sourcing alternative forms of protein from plants, algae and insects; the use of palm oil; and the increasing understanding of probiotics for human health.
The course opened on Monday 6 April 2020, and once learners enrol, they can flexibly follow the course at any point over the three weeks. It is led by Dr Andrew Ainslie, an associate professor of agriculture and development at the University of Reading, who will be helping consumers and those working in the food industry to explore and understand the many different perspectives that form part of food controversies.
Dr Andrew Ainslie said:
"We will be focusing on alternative proteins, palm oil and probiotics which represent some of the most contentious and discussed developments in the food industry.
"Our team of specialists will help to introduce learners to some important contemporary food controversies. We want to provide them with insights that will challenge their current conceptions of what food is, where it comes from and the human and environmental costs and trade-offs of its production.
"We anticipate that having analysed these three controversies through balanced consideration from a range of perspectives, learners who complete the course will be better informed about the complex interconnectedness of the whole food system.
"Ultimately, the course is designed to increase learners' ability to bring this new discernment to all the food they eat and hopefully become agents of change by better understanding the issues, arguing for or against certain practises, and perhaps using their new insights to help educate family, friends and even work colleagues on the issues covered in the course."
Over the three weeks, with an anticipated 3 hours of learning and online discussion per week, the topics covered are:
Week 1: Alternative proteins, including insects, algae, lab-grown, soya, with specialist input from Essento, an industry partner in Switzerland
Week 2: The widespread use of Palm Oil in both foods and related products
Week 3: Better understanding of Probiotics
The University of Reading has extensive experience of designing, developing and producing successful Open Online Courses (OOC) with a dedicated Online Courses team that has created more than 20 OOCs for the FutureLearn Virtual Learning Environment (VLE).
Since starting with a handful of courses in 2013, courses developed at the University of Reading have attracted more than one million learners from 190 different countries, and we continue to undertake high quality research across the food chain from primary production, processing, food nutrition through to consumer behaviour and marketing sectors. Many of these research outputs provide case studies and other specialist educational materials for the Open Online Courses (OOC).
"Engaging with Controversies in the Food System" is funded by EIT Food (www.eitfood.eu) and forms part of their range of novel educational activities including workshops, summer schools and online educational programmes for a wide audience including students, entrepreneurs and food professionals. See more here:
Click here for further information and to register for the course:
https://www.futurelearn.com/courses/engaging-with-controversies-in-the-food-system
This work has been funded by EIT Food, the innovation community on Food of the European Institute of Innovation and Technology (EIT), a body of the EU, under the Horizon 2020, the EU Framework Programme for Research and Innovation.



This activity has received funding from EIT Food, the innovation community on Food of the European Institute of Innovation and Technology (EIT), a body of the EU, under the Horizon 2020, the EU Framework Programme for Research and Innovation.
EIT Food is Europe's leading agri-food innovation initiative, with the aim to create a sustainable and future-proof food sector. The initiative is made up of a consortium of key industry players, start-ups, research centres and universities from across Europe. EIT Food aims to collaborate closely with consumers to develop new knowledge and technology-based products and services that will ultimately deliver a healthier and more sustainable lifestyle for all European citizens.