Reading in the news - Tue 14 Apr
14 April 2020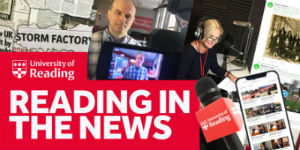 COVID-19:
Dr Simon Clarke (Biological Sciences) was on Sky News, BBC Radio 5 Live, TalkRADIO, BBC Scotland and BBC Ulster. Dr Clarke's comments on updated statistics appear in the Daily Mail and Telegraph live blog (post at 3:33pm), on the UK's testing strategy in CNN International online, on whether a lockdown will end soon on Yahoo! News, in the Mail Online about a band to help people avoid touching their face, and on the conspiracy theory on 5G appear in BBC News, Independent, Bloomberg, Metro, LBC News online, Yahoo! News and regional titles. Dr Clarke also wrote for the Conversation about the danger of latex gloves. The article is quoted in the Sun, and the post was republished on Snopes.
Dr Al Edwards (Pharmacy) is quoted in the Telegraph about issues surrounding testing, in BBC Science Focus on PPE, and work he has been involved with to support the partnership between local 3D printers and Cisco is mentioned in a City AM article and Logistics IT. Dr Edwards also spoke to BBC Berkshire and Sky News.
Dr Mark Shanahan (Politics & International Relations) spoke to Arirang TV in South Korea about COVID-19 and social inequality .
Professor Ian Jones (Biomedical Science) is quoted in an article in the Times about handshaking, NewsBeezer on neurological damage in COVID-19 patients, and in a Daily Mail article on facemasks.

Professor Helen Bilton (IoE) is quoted in regional titles across the UK including the Manchester Evening News and Liverpool Echo on home-schooling.

Comments by Dr Rohan Deb Roy (History) appear in an article for Business Standard about the manufacture of anti-malarial drugs that have been touted as a potential treatment for COVID-19.
Forbes reports on a Virtual Easter week planned by the Vatican, and notes the Virtual Rome tour designed by Dr Matthew Nicholls (Classics).

Prof Richard Tiffin (Agriculture) comments on the possibility that COVID-19 could crash our food system, in EE News Europe.

Dr Deepa Driver (Henley Business School) is quoted in Sputnik News after moderating an event with WikiLeaks raising concerns about how COVID-19 was being handled in Belmarsh Prison.
<!--[if !supportLists]-->

Back to nature: A post on The Conversation co-written by Professor Mark Fellowes (Biological Sciences) about discovering wildlife in your garden is reposted in Metro.

Animal Crossing: Los Angeles Times notes the Museum of English Rural Life's call for authentic smocks as part of a piece about computer game Animal Crossing. Read more about it here.

Other coverage
Research by Prof Anna Macready (Agriculture) about trust among European consumers in the food system is reported in Farmers Guardian (£) following a presentation at the Westminster Food and Nutrition policy conference.
The Conversation carry an article by Dr James Reade and Dr Carl Singleton (Economics), and Prof Adrian Bell (ICMA) about footballer's salary negotiations.
Dr Nicola Wilson (English Literature) writes for The Conversation about how book clubs helped Britons during WWII.
The Wokingham Paper report on work books released by UoR in partnership with the Royal Berkshire Hospital.
Daily Express quote Dr Tara Pirie (Biological Sciences) in an article about Netflix show Tiger King.
A post on The Conversation by Dr Miriam Clegg (Food) about satiety is republished by the Independent.

A repeat of Food Unwrapped on Channel 4 sees a visit to the Food and Nutritional Sciences department to look at flavanols.

Reading Chronicle cover a story about UoR students who are streaming live DJ sets through a radio station. Read our news story.
Prof Laurence Harwood (Chemistry) spoke to BBC Berkshire about efforts to correctly identify the age of whale sharks through isotope dating.
Daily Telegraph hold a register following the Commissioning Parade for Royal Military Academy Sandhurst, including UoR graduates.
An article about Otto and Marie Neurath on Medium notes an article by Emma Minns from the Isotype archives at UoR.
The Breeze FM note that the warmest April 8th day was recorded at the UoR Weather Station.