Reading in the news - Thu 16 Apr
16 April 2020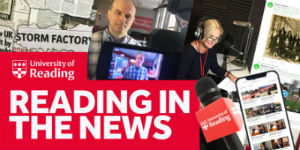 COVID-19:
Dr Simon Clarke (Biological Sciences) is quoted in the BMJ GP edition on face masks, appeared on Sky News (and here) and LBC News, and comments on a conspiracy theory about 5G spreading the coronavirus appears in Reuters, the National and further local papers.
Professor Ian Jones (Biological Sciences) is quoted in the Mirror on the virus reportedly mutating.
Dr Mark Shanahan (Politics and IR) spoke to BBC Berkshire to react to the latest Government press conference.
Berkshire Live and Schools Search report on a partnership between local schools and UoR to produce PPE for NHS frontline staff.
Food donated by UoR catering services is being distributed by the Whitley Community Development Association alongside donations from local restaurants and supermarkets, reports Reading Chronicle.
Curiosity: Nature cover a new study looking at human curiosity and its power to bias decision making. Read more about the study here.
Science fiction: Amy Butt (Architecture) appears on BBC Radio 3 Free Thinking to discuss science fiction, and how the way of thinking extends to academic disciplines including building design.
Other coverage
Nature News and Views runs a piece by Prof Mark Pagel (Biological Sciences) on evolution.
An article in the Telegraph looking at whether data can increase productivity at work quotes Prof Derek Clements-Croome (Built Environment) on the impact of indoor air quality on productivity.
Independent republish an article in the Conversation by Prof Tom Oliver about human interconnectedness and whether racism is inherent to human nature.
Dr Tara Pirie (Biological Sciences) spoke to BBC Berkshire about Netflix show Tiger King.
Newbury Weekly News reports on the University Centre Newbury, which UoR will be supporting to deliver Child Development courses.