Reading in the News - Fri 17 Apr
17 April 2020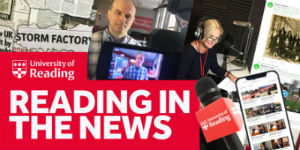 COVID-19:
Dr Simon Clarke (Bio Sci) spoke to LBC radio; Sky News and again here and here; he is also quoted in a piece by The National about broadcaster Eamonn Holmes's 5G claims and a wider piece on 5G theories by Yahoo and Big Issue Magazine; a piece by Yahoo about the lockdown extension announced on Thursday; he and Professor Ian Jones are also both mentioned in a piece on the effectiveness of facemasks by the Daily Mail and Big World Tale; and he is quoted in a piece by Yahoo about how much bacteria is carried by banknotes and coins.
Professor Helen Bilton (Education) answered questions by the Lincolnshire Echo about how to get children to do schoolwork during lockdown. She is also quoted by the Forres Gazette on the same subject.
Dr Al Edwards (Pharmacy) is quoted in a piece by Dawn.com about why some countries are reporting higher death numbers than others.
Professor Ian Jones (Bio Sci) is quoted in an article by Medical News Today about how long the pandemic is likely to last.
Dr Rohan Deb Roy (History) is quoted in an article by rediff.com about the reopening of India's only quinine factory in a bid to fight Covid-19.
Dr Jane Parker (Food and Bioprocessing Sciences) is quoted in an article by Medical News Today about loss of taste and smell being symptoms of coronavirus.
The Reading Chronicle runs a story about a pair of students who have set up a radio station during the lockdown.
The Reading Chronicle also features a piece on how to beat boredom in lockdown, featuring researchers from the Centre for Health Humanities.
Primary school admissions: Professor Helen Bilton (Education) spoke to BBC Radio Berkshire about the release of primary school places for September and the significance of children starting their educational career.
Ice Age art: Professor Steven Mithen (Archaeology) features in seminal series A History of the World in 100 Objects on BBC Radio 4 (repeated – from 1min 20s), commenting on a 13,000-year-old carving of swimming reindeer.
Other coverage
The Independent shares Tom Oliver's (Ecology) Conversation article about whether racism and bigotry are in our DNA.
Newbury Weekly News runs a story about the new University Centre Newbury, which will partner with the University of Reading, and is due to open in September.
Business Biscuit mentions Henley Business School in an article about the psychology of leadership.
Church Times runs an obituary to Sir John Houghton, who died on Wednesday, and mentions his work alongside the University of Reading building novel instruments for NASA satellites.
The Reading Chronicle runs a story that the University has been named as one of the top 10 universities for employability.