Reading in the news - Tue 21 Apr
21 April 2020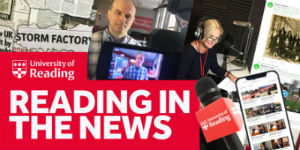 COVID-19:
Dr Simon Clarke (Biological Sciences) spoke to Sky News, and is quoted by the Express following a Sky News interview about lack of testing of arrivals in airports.
Professor Ian Jones (Biological Sciences) is further quoted on research suggesting that men's testicles make them more susceptible to COVID-19 in the Sun and International Business Times; and in the Daily Mail on face masks.
Pop Culture quotes Dr Jane Parker (Food) about loss of smell and taste as a possible symptom of Covid-19.
War Rhetoric: New research by Dr Sylvia Jaworska (English Language) and colleagues about the use of war references to describe pandemic response is covered by Daily Mail and Medical Xpress. Read more about the research here.

Graphic novels: Prof David Brauner (English Lit) writes for the Conversation with five graphic novels that define the genre. The article has been reposted in Big News Network.
Other coverage
PhD student Kelly Jowett's appeal for help with her research about pest-eating beetles is covered in Seed Quest.
Dr Ken Dark (Economics) spoke to BBC Berkshire about a new study into the lives of Nazarenes during the Roman occupation of Israel.
Henley Standard report on an annual toad ecology effort in the town, and note that Henley Business School have been involved in calling for volunteers to help.