#WeAreTogether: Hospital webcam donation to help patients and doctors during COVID-19 crisis
21 April 2020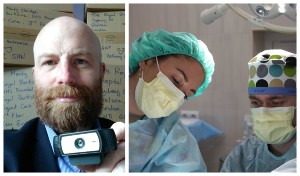 COVID-19 patients will be able to speak to their families more easily, and clinicians provide care safely, after the University of Reading gave 100 webcams to two hospitals.
The University has given 50 high-resolution webcams each to both the Royal Berkshire Hospital in Reading, and Royal Brompton Hospital in west London, following an appeal for the gadgets, which have become almost impossible to order due to high demand as more people work from home.
The webcams are attached to a computer at a patient's bedside in intensive care, enabling frontline clinicians delivering critical care round-the-clock access to virtual support from specialist colleagues any time they need it. This helps senior clinicians provide constant remote support to all the critical care areas under isolation, helping facilitate team communication, save time and reduce the need to use personal protective equipment (PPE).
The cameras donated are high enough resolution to allow doctors to read data on ventilators via the cameras, maintaining a high level of care from a safe distance. They will also allow some family members of critically ill patients to see and speak to loved ones who are unable to visit due to restrictions.
Professor Parveen Yaqoob, Deputy Vice-Chancellor of the University of Reading, said: "We are pleased that this small gesture will make such a big difference to hospital staff, patients and their families.
"The University is working to support the fight against COVID-19 in any way we can – from our scientists studying the virus and informing the public, to sharing our equipment with the NHS, and supporting the heroes on the frontline in our hospitals."
The University stepped in to help after a member of staff spotted the appeal for unused webcams by a member of the COVID-19 Emergency Response team at Royal Brompton, a specialist respiratory hospital caring for patients who are acutely unwell with the virus.
After realising the benefits the technology offered to both patients and staff, the University also contacted the Royal Berkshire Hospital in Reading, to see if a similar donation would be of use.
The donated cameras were from the University's existing IT supplies and were delivered to both hospitals on Tuesday (31 March).
Dr Janet Lippett, Chief Medical Officer at the Royal Berkshire Hospital, said: "We've been using webcams to keep families of new born babies connected and this very generous donation from the University of Reading means we can now widen their use around the hospital site.
"They give clinicians the chance to communicate with colleagues without the risk of spreading infection, and they also mean patients can keep in touch with their family whilst in isolation – something that will help boost their morale during these difficult times."
Working together to fight coronavirus
The University of Reading is continuing to work with the NHS and Royal Berkshire Hospital, as well as other local partners, to see how its expertise and facilities can be used to support them and help the community during the COVID-19 outbreak.
Activity books developed by English Literature experts at the University and Royal Berkshire Hospital are being used to help keep hospital patients' minds active during visiting restrictions, as well as relieve boredom in prisons and among children being home schooled.
Reading scientists have been contributing work to deal with the pandemic, including analysing the virus protein to assist vaccine development and working on technology that could aid diagnostic testing.
Last week, the University said hospital and NHS staff could park for free in car parks on its Whiteknights and London Road campuses.
Academics in a number of subjects have also been helping keep the public informed through frequent engagement providing expert comment via online, broadcast and social media. This has ranged from health experts explaining the likely risk of contamination or mental effects of isolation, to tips on homeschooling and the impact on the economy and business.