Reading in the news - Wed 22 Apr
22 April 2020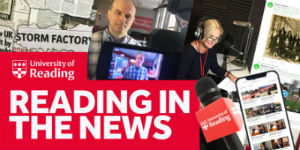 COVID-19:
Professor Ian Jones (Biological Sciences) quotes appear in the Sun and Express about mutations of the coronavirus.
Dr Simon Clarke (Biological Sciences) spoke to Sky News, LBC News and talkRADIO about a variety of topics.
Dr Mark Shanahan (Politics and IR) is quoted in Al Jazeera magazine about comments by a Foreign Office official over the UK joining the EU Ventilator scheme.
Snopes reposts an article first appearing in the Conversation by PhD researcher Taibat Ibitoye looking at food and diet myths being shared related to preventing or curing COVID-19.
Comments by Dr James Reade (Economics) about whether the UK will need to ask to extend transition deal due to COVID-19 appear in Sputnik News.
Dr Jorge Guira writes for the Conversation about the future of airliners following COVID-19 badly affecting their business.
#WeAreTogether: The University has been supporting efforts to tackle the pandemic in a number of ways and is using the Universities UK tag #WeAreTogether to highlight work done by members of our community. Read more about our response here.
A donation of 100 web cameras to two hospitals including the Royal Berkshire is covered by BBC Radio Berkshire, The Breeze FM and Reading.co.uk. Read our news story here.
UoR has supported a group of local schools to print PPE, reports the Boarding Schools Association.
BBC Berkshire cover a project which sees creative activity books created by the UoR Centre for Health Humanities used in hospitals including the RBH. Read more about the work here.
Soup: BBC Two's Inside the Factory spoke to Dr Miriam Clegg (Food) about why soup keeps people fuller for longer.