#LockdownClimateChange: COVID-19 lockdown could leave climate action legacy
22 April 2020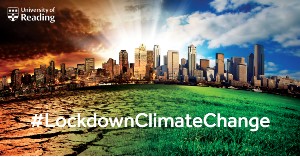 Coronavirus lockdown measures are showing how people can make longer-term changes to tackle climate change, University of Reading experts say.
Social distancing and 'stay at home' rules have forced people globally to change their behaviour, with a massive impact on society and the economy. Yet some of these changes, such as home working, daily exercise, diet and online communication, could help show government, businesses and individuals how to make long-term shifts to fight climate change.
To mark Earth Day today (22 April), the University of Reading is highlighting how its own institutional sustainability activity could change once the coronavirus lockdown has been lifted, and showing how researchers across key areas consider the opportunities for action on climate change in other parts of society.
The University also wants to encourage people across Reading and further afield to show how they will #LockdownClimateChange. People can use social media to pledge how they will keep a COVID-19 lockdown behaviour or activity, or change something they did before, to help them take action on climate change.
Take the pledge to #LockdownClimateChange >>>
Professor Robert Van de Noort, Vice-Chancellor of the University of Reading, said: "We all have a part to play in tackling the coronavirus crisis. COVID-19 is a tragedy, and will cost the economy billions, but the measures to contain the virus shows the lengths to which people are willing to go to protect their families and save other people's lives.
"We all look forward to seeing the back of the coronavirus, and must focus on making this a reality. Once quarantine measures have ended, let's learn from our lockdown and make the changes necessary to tackle climate change, which will be humanity's biggest challenge in the years and decades to come."
The University of Reading is one of the world's leading centres for the study of climate change and has sustainability as a core part of its future plans.
Read #LockdownClimateChange expert comments