#LockdownClimateChange: We can do 'business unusual' to benefit environment
22 April 2020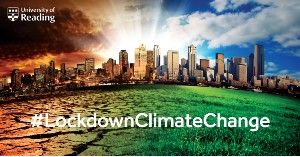 Professor Rosalind Cornforth, Director of the Walker Institute at the University of Reading, said:
"One of the biggest barriers to making the required drastic cuts to greenhouse gas emissions to prevent catastrophic climate change has always been the costly and disruptive changes to society this would require. The COVID-19 crisis has shown that we are able to make these kind of dramatic changes, virtually overnight, when we have to. We can do business unusual.
"Climate change may not be killing thousands of people every day right now, but it will cause irreversible harm to the planet and threaten millions of lives in the long term if we do not take action.
"If we are willing to spend billions now and change our behaviour to save people from a virus, we should consider how we help people around the world develop greener and fairer economies – and particularly on this Earth Day.
"Doing business unusual from this time forwards means addressing underlying development issues as part of an integrated approach to climate change and adaptation. The generation of new interdisciplinary knowledge from across the physical and social sciences, in dialogue with policymakers and practitioners and integrated with technology, and business in an inclusive approach will promote truly transformational outcomes."
Watch Professor Cornforth's video for Earth Day >>>
Read about the University of Reading's #LockdownClimateChange campaign here >>>