#LockdownClimateChange: 'There is no vaccine for climate change'
22 April 2020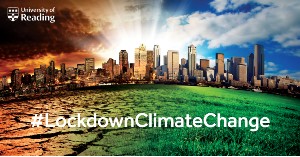 Professor Elizabeth Robinson, Professor of Environmental Economics and co-investigator on the Lancet Countdown Tracking Progress on Health and Climate Change, said:
"Air pollution from dirty vehicles and industry already causes millions of premature deaths globally. It also contributes to global warming, the worst effects of which are forecast to kill millions more in the future from tropical diseases, heat stress, and respiratory diseases.
"​Shutting down whole parts of the global economy is clearly not a long-term solution to climate change, but this global lockdown has certainly provided time and space to reflect.
"First, people are willing to act to look after ​their own health. But more importantly, across the globe individuals and communities have acted with tremendous humanity and many at risk to their own lives to save the health and lives of others.
"Second, scientists have for years been warning us that a global health pandemic such as this was a matter of when, not if. As individuals and countries, it has been easier for us to act like the proverbial ostrich, or use uncertainty over the future as an excuse not to take sensible and cost effective action today to protect lives and livelihoods in the future.
"Third, many of us who live in highly polluted cities are realising to what extent air pollution makes our lives poorer. We are variously enjoying cleaner air and clearer views, healthier lungs, birdsong, and transformed night skies.
"Whilst our scientists are working hard to develop a vaccine against Covid-19, it is particularly important to remember that there is no vaccine to stop or reverse the effects of climate change, which is already causing premature deaths and harming our economies.
"However, the good news is that we already know how to reduce global warming, and we already know that the actions that we need to take make sense for our health and make sense for our economies. We already know that people across the globe are willing to take actions to reduce climate change and that they want their political leaders to act.
"This current tragedy, that has touched the lives of so many across the globe, has brought into sharp focus the need to take our future seriously."
Read about the University's #LockdownClimateChange campaign >>>