#LockdownClimateChange: Campus carbon footprint could be reduced by learning from lockdown
23 April 2020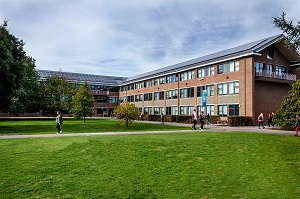 Lessons learnt from the COVID-19 lockdown period could help the University of Reading lower its carbon footprint even further.
The University last week reported it had achieved a 44% reduction in its carbon footprint by the end of 2019. This improves on the 40% milestone hit last summer and puts the university well on course to surpass its target of a 45% reduction by 2021.
With campus operations vastly scaled down since mid-March due to the COVID-19 pandemic, the University's annual carbon emissions for 2020 will undoubtedly be impacted. However, there are also opportunities to use the lockdown to identify additional ways the University could reduce its impact on the environment.
The University of Reading has launched its #LockdownClimateChange campaign, looking at what lessons can be learnt from the COVID-19 lockdown to help tackle climate change in the future.
Dan Fernbank, sustainability manager at the University of Reading, said: "With campus buildings closed, and staff and students mostly working from home, the University has an opportunity to get a real insight into how we all use energy and how we could cut our emissions to zero, even faster than planned.
"We can't operate without a campus, but this is a unique opportunity to better understand exactly how energy is used in each of our buildings. We can also test how more flexible working, online delivery of teaching, and cutting unnecessary travel will help us accelerate our carbon reduction plans, which have already seen us cut 44% of our annual emissions over the past 12 years."
Once university life resumes after government measures are lifted, the remainder of the year will make way for a 'new normal' emissions rate to be established in 2021/22. It is anticipated that when this 'new normal' point is reached, the University will have far exceeded its 45% reduction target.
During the lockdown, and as the campus gradually reopens, the University has opportunities to:
Better understand residual energy consumption while buildings are closed and gain new insight into energy demand as campus and estates gradually reopen
Review the scope for remote or flexible working, such as sharing workspaces and hosting online meetings
Gain insight into delivering teaching online and explore potential opportunities and possibilities
Consider how travel to and from campus could be reduced, such as working and/or teaching remotely. Also improve monitoring of travel to better understand its effect on carbon emissions