Reading in the news - Thu 23 Apr
23 April 2020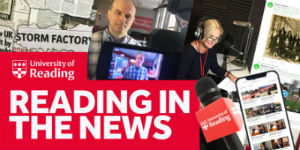 COVID-19:
Dr Simon Clarke (Biological Sciences) is quoted in the Financial Times on work to develop an accurate antibody test, and spoke to Sky News.
Professor Ian Jones (Biological Sciences) is quoted in The Times answering questions about hygiene and COVID-19.
Deputy VC Parveen Yaqoob spoke to BBC Berkshire about the loan of webcams to two hospitals including the Royal Berkshire Hospital. Heart Berkshire also mention the story, and you can read more about it here.
A piece by Dr Jorge Guira for the Conversation about the future of airliners is republished in Metro.
Further reposts of an article in the Conversation by PhD researcher Taibat Ibitoye looking at food and diet myths being shared related to preventing or curing COVID-19, in Science Alert.
A podcast in Estates Gazette interviews a Real Estate and Planning student about how the lockdown has affected their degree.
Prof Ben Laker (Henley Business School) writes for MIT Sloan about opportunities to reconnect with dormant friendships and networks.
Newbury Weekly News report on Rachel Jeans (Careers) who is volunteering as a first responder for the South Central Ambulance Service.
Dr Helen Dodd (Psychology) spoke to BBC Berkshire about a new study looking to understand the impact of COVID-19 on pre-school children.
FE week report on online courses made available on the FutureLearn platform for secondary school students, and mentions UoR.
<!--[if !supportLists]-->

Record-breaking temperatures: New data that shows that 2019 broke European all time average temperatures, and that 2020 is on track to beat it, is reported widely. BBC News, Evening Standard, and PA copy used by the Daily Mail, Yahoo! News and more than 100 local papers including Local Berkshire quotes Prof Hannah Cloke (GES), and The Times, Metro quotes Prof Rowan Sutton (Met).

Earth Day: ITV report comments by UN experts for Earth Day on the need for continued action on climate change, and report about the University of Reading's campaign #LockdownClimateChange which is calling on people to pledge to take actions to help fight climate change. The campaign is also mentioned in the Reading Chronicle and The Breeze FM, and you can read more about the campaign here.

Other coverage:
Markets Media report on a new Henley Business School study about the growing demand for green bonds.