Resolving the Dutch Eredivisie if season is ended
24 April 2020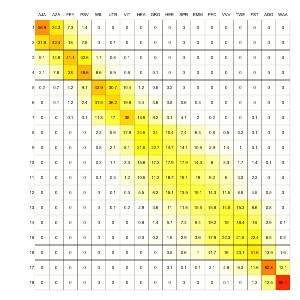 Today the KNVB is due to meet to decide the way that the Eredivisie will end. The Dutch PM has announced there will be specifically no professional football until September, ruling out any more play this season, practically speaking.
What does this mean, though? How can the season's outcomes be determined when 74 matches still need to be played?
Football economists Professor Ruud Koning of the University of Groningen, and Dr James Reade of the University of Reading, have applied statistical methods to the season to try and shed some light on this, and make some recommendations. It is hard to imagine any set of outcomes being decided without subsequent legal action on the part of clubs that miss out.
At the top, Ajax and AZ Alkmaar are separated only on goal difference. Ajax's superior goal difference and goals scored means that they are more likely to win the title, at 57%, to AZ Alkmaar's 34%. But as AZ Alkmaar beat Ajax in both meetings this season, it is very difficult to make a clear case that the title should go to either side. The best recommendation would seem to be that no title is awarded.
The top two go into the Champions League. Complicating matters here is that Feyenoord harbour a 25% chance of making the top 2 after their strong run since the Winter Break. But this is a much lower chance than either Alkmaar (77%) or Ajax (89%) (note that two places mean probabilities sum to 200%).
When it comes to the Europa League, the Dutch Cup complicates matters by admitting one of Feyenoord or Utrecht, the participants in the final, had that been played. Feyenoord and PSV are the most likely to finish in 3rd and 4th in the league, the Europa League places. Utrecht sit in the next bunch of teams, in 5th to 7th, with Willem II and Vitesse. If Feyenoord and PSV go in on league places, Utrecht go in on Cup performance, but this leaves Willem II feeling aggrieved.
At the bottom, RKC Waalwijk have almost no chance (2%) of escaping the bottom two positions. ADO Den Haag have a 75% chance of automatic relegation, with the third relegation place (16th) being a play-off. They join a bunch of teams likely to take part in that playoff (Den Haag, Fortuna Sittard, Twente, and Venlo).
A recommendation here would be to relegate RKC Waalwijk, and have Den Haag play off against the second placed team from the division below, the Jupiler League, for the second relegation place, and the bunch above are all saved from relegation.
The final recommendation is on TV money. TV money is distributed based on merit via final league position. It seems most fair to distribute this money in bunches, where each bunch of teams gets the same amount of money. These bunches are:
1-2 (AJA, AZA),
3-4 (FEY, PSV),
5-7 (WIL, UTR, VIT),
8-12 (HEA, GRO, HEE, SPR),
13-16 (PEC, VVV, TWE, FST),
17 (ADO)
18 (RKC)