Reading in the News - Fri 24 Apr
24 April 2020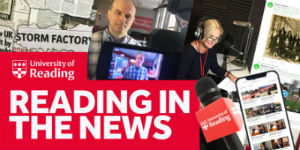 COVID-19:
Dr Simon Clarke (Bio Sci) spoke to Sky News and TalkRadio; is quoted by Swedish news site Expressen; is quoted by the Evening Standard, the Financial Times (and in print).
Professor Ian Jones is interviewed by The Times and quoted in a piece by The Daily Mail, the Express Informer, and the Asian Express.
Dr Al Edwards (Pharmacy) spoke to France 24.

Deputy Vice Chancellor Professor Parveen Yaqoob's (VCO) interview about the University's donation of 50 webcams to the Royal Berkshire Hospital was replayed by BBC Radio Berkshire.

Dr Helen Bilton is quoted in a piece by the Essex Chronicle about schoolwork during lockdown.

Dr Netta Weinstein (Psychology) is mentioned in an article by Daily Hunt about how people are dealing with isolation and faith during lockdown.
The University is mentioned in an article by Times of India about how antibodies can help immunity.
#LockdownClimateChange: See the latest expert comment in our #LockdownClimateChange campaign, discussing how we can learn lessons from the COVID-19 lockdown to help us tackle climate change – https://archive.reading.ac.uk/2020/April/pr840463.html
The campaign is mentioned in an article by The Courier and The Western Mail, which quotes Professor Tim Dixon (Construction Management), urging people to combat climate change with the same effort as the coronavirus.

Professor Ed Hawkins' (Met) climate stripes were featured in an article by Medium.
Hottest year in Europe: Professor Hannah Cloke (Geography) is quoted in pieces by The Courier, The Daily Express, and The Daily Star; Professor Rowan Sutton (NCAS) is quoted in pieces by The Times, The Daily Mirror, The Western Mail, and The Sun;
Oil crisis: Dr Jorge Guira (Law) wrote a piece for The Conversation about the difficulties currently faced by the American shale oil industry. His article is then quoted by Luxembourg news site Delano, UPI and Qrius.
Learning from the past: Professor Patrick Major (History), Dr Vaughan Michell (Business) and PhD candidate Jacob Thomas-Llewellyn wrote a piece for The Conversation about what lessons from the second world war's industrial pioneers during the current pandemic crisis.
Other coverage
Dr Graeme Marlton (Met) is quoted in a piece by Sign of the Times about a meteor which was spotted over Hull.
Biz News features a webinar by Jon Foster-Pedley and Professor Andrew Godley (Henley) about how a business owner can stay relevant in uncertain times.
Research by the University into the effects of eating berries for breakfast is mentioned in an article by People's Friend.
The Reading Chronicle covers a social media post by the University about 50 packets of biscuits found dumped on campus.