Reading in the news - Mon 27 Apr
27 April 2020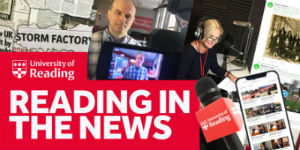 COVID-19:
Dr Simon Clarke (Bio

logical

Sci

ences

) spoke to

BBC 5 Live, LBC News and

TalkRadio; is quoted

in the Guardian live blog, Yahoo! News and Stuff NZ about immunity, and Business Standard on winter and respiratory illnesses.
Professor Parastou Donyai (Pharmacy) is quoted in an article for Reuters following comments by the US President about disinfectant.

Comments by

Professor Ian Jones

(Biological Sciences) about China's response to COVID-19 appear in Rightways.
The University of Reading's loan of testing equipment for national testing is covered by The Breeze, and Deputy VC Parveen Yaqoob spoke to BBC Berkshire about it. Read our news story here.

BBC Berkshire mention advice released to help children manage anxiety caused by COVID-19 and the lockdown.
University impacts: Professor Mark Fellowes, Pro-Vice-Chancellor for Academic Planning & Resources, interviewed by Lyse Doucet on BBC World Service's Newshour programme (from 30mins) about the financial challenges and uncertainty facing UK universities in light of COVID-19.
#LockdownClimateChange: Prof Bill Collins (Met) is quoted in reports about the sky appearing to be bluer, in the Daily Mail and mentioned by BBC World Service.
In addition, comments by PhD researcher Simon Lee (Met) about the falling levels in the Rhine in Germany and the effect that climate change may have caused, in Bloomberg Green.
See the latest expert comment in our #LockdownClimateChange campaign, discussing how we can learn lessons from the COVID-19 lockdown to help us tackle climate change – https://archive.reading.ac.uk/2020/April/pr840463.html
Other coverage