Reading in the News - Tue 28 Apr
28 April 2020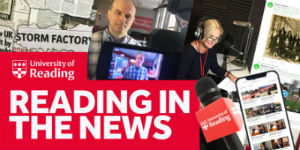 COVID-19:
Professor Ian Jones (Biological Sciences) is quoted by Mail Online, Reuters, The Express, Metro, iNews, Yahoo News, Newsweek, and dozens of titles worldwide, including Channel News Asia and the Himalayan Times, on secondary health problems linked to COVID-19.
Dr Simon Clarke (Biological Sciences) spoke to BBC Radio Scotland about face masks, and Heart Berkshire and BBC Kent about easing the lockdown period.
Professor Arlene Astell (Psychology) is quoted on how technology can help during isolation by The Startup, by Medium.
Dr Parastou Donyai (Pharmacy) is quoted in Medscape on Trump's 'advice' to use disinfectant to treat COVID-19.
Architecture careers: Professor Flora Samuel (Architecture) is quoted by Building Design on tips for those graduating into a recession.
#LockdownClimateChange: Professor Bill Collins (Meteorology) is quoted in the Daily Star on blue skies resulting from lower pollution levels during lockdown. Read our campaign story, and our latest expert comment on how we can all pledge to change our behaviour to combat climate change.
Other coverage
Smithsonian Magazine features the University's Virtual Rome online course in a list of course that allow people to learn about Europe while they can't travel there. Read our news story.
Phys.org reports on a digital archive on the Egyptian revolution co-created by Dr Dina Rezk (History).
<!--[if !supportLists]-->