Reading in the news - Thu 30 Apr
30 April 2020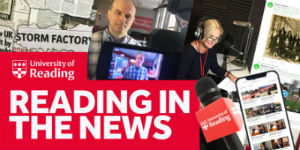 COVID-19:
Dr Simon Clarke (Biological Sciences) is quoted in the Independent about a new antibody test which is claimed to be 99% accurate and the Times on infection rates seen in children; and Dr Clarke spoke to BBC Scotland and talkRADIO and comments made in the Independent were mentioned on ITV's Good Morning Britain.
Comments from Prof Ian Jones (Biological Sciences) appear in the Times in an article about whether sex hormones may make men more at risk from Covid-19.
Telegraph's live blog reports about a fifth of UK pupils have English as an additional language and warn about the risk of losing English language development during homeschooling. Read our news story here.
#LockdownClimateChange: Read our campaign story, and our latest expert comment on how we can all pledge to change our behaviour to combat climate change.
Probiotics: Food Navigator reports on the use of probiotics to combat LDL cholesterol. The article notes research by Prof Glenn Gibson and colleagues from the Department of Food and Nutritional Sciences about the benefits of probiotic treatments for reducing LDL.
Other coverage
Dr Mark Shanahan spoke to BBC Berkshire about the birth of UK Prime Minister and Carrie Symonds' baby boy.
BBC Berkshire further discussed the Museum of English Rural Life's call for vintage farming outfits on computer game Animal Crossing. Read our news story here.
Visiting Prof Julian Cooper (Food) writes for New Food Magazine about sugar reformulation.