Consumers continue to trust farmers most among food sector
11 April 2020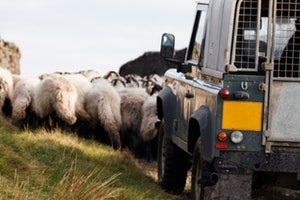 Farmers continue to be trusted by the general public more than any other part of the food chain, new research shows.
The TrustTracker® project, funded by EIT Food, looks at how consumers from countries around Europe feel that different parts of the food industry. The latest research, presented at the first online Westminster Food and Nutrition Forum, outlines the methods used to understand how the public feels about how trustworthy farmers, manufacturers, retailers and government are around food.
In a survey of 5,870 consumers across UK, Germany, Spain, France and Poland, farmers were found to be the most trusted actors in the supply chain in every country. In the UK, this was followed by retailers, food manufacturers, and finally authorities.
Dr Anna Macready, lead researcher on the TrustTracker® Project and Associate Professor of Consumer Behaviour and Marketing, University of Reading said:
"Covid-19 presents a really big challenge for the food system. One of their strengths is that by changing the monopoly rules, the Government is enabling retailers to work together. But a challenge is the 'just in time' approach has so far got in the way of public trust.
"Open communication to the public will be key - it needs to be a coordinated message that is simple and understood. Farmers can leverage trust by maintaining transparency, through coordination and cooperation, by supporting access to food, and by helping to promote honest and coordinated messages to consumers."
The TrustTracker® research, which is published in Food Policy, focuses on key aspects of trustworthiness including openness, competence and care.
The team found that farmers received higher scores than all other parts of the food industry across different countries, and that in the UK they scored highest for openness and competence. Meanwhile, UK authorities in charge of food policy received low scores for competence and food manufacturers scored lowest for openness among British consumers.
Dr Macready said:
"Food manufacturers see a significant hit on their scores because of the perception that they aren't transparent about their businesses and practices. It's a key opportunity for the sector to consider how they can develop more trust and in doing so help consumers with a myriad of benefits including healthier and more sustainable food habits.
"Improving openness can happen in major crises like Covid-19, but can also be improved through developing a reputation for working as part of a whole system rather than only for themselves."
Full citation:
Macready, A. L., Hieke, S., Klimczuk-Kochańska, M., Szumiał, S., Vranken, L., Grunert, K.G., 2020, Consumer trust in the food value chain and its impact on consumer confidence: A model for assessing consumer trust and evidence from a 5-country study in Europe, Food Policy, doi: 10.1016/j.foodpol.2020.101880



This activity has received funding from EIT Food, the innovation community on Food of the European Institute of Innovation and Technology (EIT), a body of the EU, under the Horizon 2020, the EU Framework Programme for Research and Innovation.
EIT Food is Europe's leading agri-food innovation initiative, with the aim to create a sustainable and future-proof food sector. The initiative is made up of a consortium of key industry players, start-ups, research centres and universities from across Europe. EIT Food aims to collaborate closely with consumers to develop new knowledge and technology-based products and services that will ultimately deliver a healthier and more sustainable lifestyle for all European citizens.