#WeAreTogether: How Reading is helping fight COVID-19
03 August 2020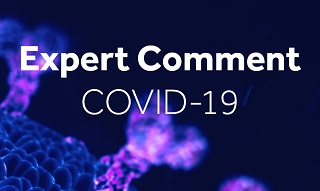 The University of Reading is working together with partners to support efforts to fight COVID-19, treat the disease, and mitigate the impacts of the coronavirus crisis.
From studying the virus itself, to supporting NHS staff, the University is contributing to efforts to protect people from the disease and help them deal with the many impacts it is having on society.
The #WeAreTogether campaign is highlighting work across all UK universities to support the NHS and the whole of society through the COVID-19 crisis.
Here are some of the ways Reading is helping tackle the pandemic:
Supporting our community
- Helping schoolchildren stay creative with art and technology
- Trainee teachers continuing to support pupils
- Help and facilities for students and the public
Academic research
- Fifi the llama helping to find treatments
- Investigating the origins of the virus
- 3D modelling the virus proteins
- Investigating potential loss of smell symptoms
- Understanding how young people's mental health is being affected by lockdown
- Applying new techniques to track coronavirus spread
- Protecting the future of chocolate
- Analysing how world leaders are managing the pandemic
- Warning that models should be used responsibly
- <!--[endif]-->Reading scientists contribute to COVID-19 response
- Repurposing drugs to treat patients
- Assessing lockdown impact on different personality types
- New, low-cost technologies to tackle global challenges
- Finding inspiration in Beckett archives to reflect lockdown in creative writing
Helping our NHS
- Donating webcams to local hospitals
- Graduates playing their part in tackling pandemic
- Former students helping NHS and care homes
- Assisting in COVID-19 testing lab
- Student offering testing support alongside studies
- Providing free learning materials to frontline staff
- Physician Associate graduates working on the front line
- Loaning testing equipment to the NHS
- Partnering with schools to make PPE for NHS staff
<!--[endif]-->- Free parking provided for hospital staff
- Food donation to NHS and community
Informing public and media
- Reading experts engaging with the media
- Supporting teachers in reopening schools debate
- How technology could help with contact tracing
- Reviewing evidence on facemasks
- Explaining how COVID-19 tests work
- Countering spread of false information
- Clarifying confusion around ibuprofen
- Proposing solutions to resolve football season
Advice for isolation
- Helping young people manage lockdown depression
- <!--[endif]-->Talking about COVID-19 with anxious children
<!--[if !supportLists]-->- <!--[endif]-->Helping children cope with social distancing
<!--[if !supportLists]-->- <!--[endif]-->Home schooling tips for parents
- Investigating lockdown impacts on bilingual students
- Webinars to help support worried young people
Volunteering and initiatives
- Encouraging students to get creative
- Supporting trainee teachers to make a difference for schools
- Charity needs being matched to student volunteers
- Student tutoring young pupils while shielding
- Students using sport to boost mental health
- <!--[endif]-->Staff volunteering to support the NHS
- Community first responder role for staff member
- Students beam live DJ sets into people's homes
<!--[if !supportLists]-->- <!--[endif]-->Students exercise round the world without leaving home
Motivating millions at home
- Collating new and unpublished creative writing inspired by lockdown
- Offering greater access to museums and rare collections from home
- Giving football fans something else to do at weekends
- Activity books to relive lockdown boredom
- Getting thousands involved in science at home
<!--[if !supportLists]-->- <!--[endif]-->Public put kettle on in high pressure experiment
<!--[if !supportLists]-->- <!--[endif]-->Students share ideas on coping with lockdown
<!--[if !supportLists]-->- <!--[endif]-->Gamers respond to University museum challenge
Professor Robert Van de Noort, Vice-Chancellor of the University of Reading, said: "Coronavirus is the biggest crisis we have faced for decades. But I am convinced that by working together, we will come out of this as a better organisation, and as a better society.
"We have to work together. I am really proud of the role the University of Reading is playing – in research into vaccines and diagnostic testing, in the way we use our facilities to support the NHS, and the way our colleagues and students are making themselves available to support local charities and organisations."
Follow the University's latest expert comments, media coverage and news stories here.
For full details for students and staff on how we are continuing to operate during the coronavirus crisis, visit reading.ac.uk/coronavirus
Are you doing something with or from the University of Reading to help with the COVID-19 crisis? Let us know by emailing pressoffice@reading.ac.uk