Reading in the news - Tue 4 Aug
04 August 2020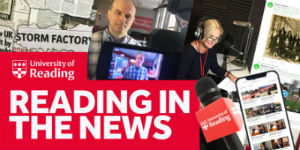 #WeAreTogether: Reading's work to help during the COVID-19 crisis. See our round-up here.
In Your Area carries a story about Shirley Smith, who is studying for a doctorate at the University, making face masks to raise money for vulnerable people in Madagascar.
MBA.co.za in South Africa publishes a piece co-written by Dr Caroline Rook (Henley Business School) about spotting the signs of fatigue among employees due to COVID-19 stresses.
Times Higher Education publishes a letter co-signed by Reading's Dr Erinma Ochu (GES) calling for the community sector to be included in post-COVID recovery plans for university-business partnerships.
<!--[if !supportLists]-->

COVID-19: expert comment on the coronavirus outbreak
Dr Simon Clarke spoke to the Daily Mail about the ability of different groups to socially distance; Irish Daily Mail about the rise in flu cases in Australia after lockdown eased; and was interviewed by Russia Today.
Dr Dyan Sellayah (Pharmacy) is quoted by Gulf Today on the link between obesity and COVID-19 vulnerability.

BBC Radio Berkshire spoke to Dr Simone Varotto (Henley Business School) about a new book he contributed to looking at how businesses will be affected by the pandemic.
Anti-Semitism: An article written for The Conversation by Professor Bryan Cheyette (English Literature), looking at modern-day anti-Semitism following comments by musician Wiley, is republished by the National Interest.
Other coverage
BBC Radio Berkshire interviewed PhD researcher Simon Lee (Meteorology) about studying at Reading and his lifelong interest in the weather, in the first of a weekly series featuring academics and colleagues around the University.

PhD student Akshay Deoras (Meteorology) is quoted by the Hindustan Times on severe weather in Mumbai.
Farming UK reports on a survey on poison-resistant 'super rats', quoting Reading research that showed resistance is spreading.
The Windsor Express and Maidenhead Advertiser report that Friday was the third hottest day in Maidenhead since 1953, quoting Dr Roger Brugge (Meteorology).
Yahoo News and MSN News report the health benefits of blueberries, quoting Reading research. Read our news story.

The University of Reading's University Challenge team is mentioned in the Radio Times ahead of their first round match on BBC Two on Monday evening.

Wales Farmer reports that a University of Reading student is among the National Farmers Union's latest Student and Young Farmer Ambassadors.
The Nation and Daily Times report on a seminar hosted by the Lahore School of Economics in Pakistan, where Dr Stefania Lovo (Economics) was a speaker.
Legal Cheek ranks universities in England, Scotland and Wales with Law courses by expected graduate earnings, with Reading in 14th place out of 99.
The Budpaest Business Journal mentions that Reading is among institutions worldwide carrying out experiments using artificial light to grow crops.

The National features the experience of a Reading Modern Languages lecturer in a piece highlighting flaws in the UK's visa system.

A contestant on the gameshow Blockbusters on Challenge TV spoke about her studies and sporting leisure activities at the University.