Reading in the news - Wed 5 Aug
05 August 2020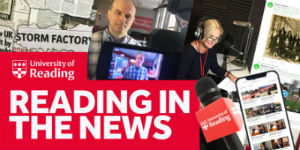 #WeAreTogether: Reading's work to help during the COVID-19 crisis. See our round-up here.
Wokingham Paper report on the ArtLab project which has helped Reading primary school children engage with art during lockdown. Read our news story here.
COVID-19: expert comment on the coronavirus outbreak
Dr Simon Clarke (Biological Sciences) spoke to Sky News following the publication of a report by the UK's Home Office Select Committee looking at failings in quarantining travellers to the UK particularly in March. The Breeze FM also picked up Dr Clarke's comments.
Vogue and News24 further report Prof Uma Kambhampati's (Economics) research on how female heads of state have led their country to better outcomes than their male peers
Prof Ian Jones (Biological Sciences) is quoted in a Mail Online article about research about the possible transmission of COVID-19 from mother to foetus.
Science of BBQs: Popular scicomms podcast Naked Scientists publish an extract from their latest episode, where they spoke to Dr Jane Parker (Food) about flavour chemistry.
Other coverage
Emeritus Professor Brian Scott-Quinn (Henley Business School) is quoted in Bloomberg about BP's announcement of a future shift to a low carbon economy.
Inverse have republished an article in the Conversation by Dr Mark Dallas (Pharmacy) about 10 factors linked to increased risk of Alzheimer's Disease.

An article in the Daily Mail (in print) about a tragic case of a man who committed suicide notes UoR research into earworms, after the man reportedly suffered from 'last song syndrome'.

The Telegraph run an obituary for Clive Ponting OBE, former UoR student and civil servant.
An article published in Aeon looking at digital storytelling cites former UoR philosopher Prof Galen Strawson.
Connectivity report on funding to create the world's first automated farm. Dr David Rose (Agriculture) who is involved in the project is quoted.
Further reports of the Royal Bank of Canada investing in news sustainability projects, including an environmental charity linked to UoR's Integrated Catchment Model, is reported in FinExtra.