Education technology pioneers receive national recognition awards
06 August 2020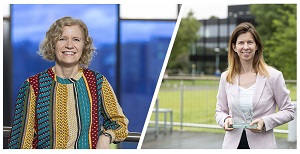 Two leading members of the University of Reading who spearheaded improving the use of technology in teaching and learning have been recognised through national awards.
Vicki Holmes who works in the Centre for Quality Support and Development, and Professor Emma Mayhew have been each awarded National Teaching Fellowships from Advance HE for transforming Technology Enhanced Learning.
The National Teaching Fellowship Scheme raises the profile of teaching and learning at a national level, recognising and celebrating individuals who make an outstanding impact on student outcomes and the teaching profession.
Transformation of Technology Enhanced Learning
Vicki Holmes has led the transformation to incorporate Technology-Enhanced Learning (TEL) as a key part of the overall strategy for teaching and learning. Over six years, Vicki and her teams have changed the ways students are taught and interact with their lecturers and tutors through digital technology. This work has included introducing new technologies, developing new approaches to teaching and assessment, supporting staff in developing their own practice, and extending learning opportunities through MOOCs.
Vicki Holmes, Head of Technology Enhanced Learning at the University of Reading said:
"I'm delighted to have received a National Teaching Fellowship for my role in driving and embedding use of technology into our teaching and learning. The student experience is at the heart of this work, and I'm especially pleased to know that all the work that has gone into improving the digital learning experience for students at Reading is being recognised nationally."
"I recognise that raising excellence institution-wide is not a solo effort. I need excellent teams to help me, and I want to thank my wonderful TEL and Online Courses teams for all their work in what we've achieved. I also want to thank the many staff across Schools and Functions who have embraced and contributed to these changes and made this transformation such a success."
Electronic Management of Assessment
Students at the University of Reading are now able to enjoy a much improved system for getting feedback on assessments following the work by Professor Emma Mayhew.
Through the work co-lead by Professor Mayhew and a team working on the Electronic Management of Assessment (EMA) project, more than 16,000 students now benefit from a single online portal for submitting and receiving marks on their course assessments.
The work undertaken by the EMA Programme has been recognised through a number of awards including the 2019 international Blackboard Catalyst Award for Optimising the Student Experience and being shortlisted for best Transformational Project by the E-assessment Association in 2019 and 2020.
As well as leading the EMA project, Mayhew also works in a consultancy role with Advance HE, co-designing and delivering the flagship national Academic Leadership Programme.
Professor Emma Mayhew, who is now an Associate Dean for Education at the University of Surrey said:
"I was genuinely shocked to read the message from Advance HE confirming that I was one of winning applicants. The competition is so strong and the number of applicants is so large! But as well as being a surprise, it's also a real privilege to be one of the newest members of such a high profile group of colleagues recognised for their outstanding impact on teaching and learning.
"I'll always be enormously grateful for the many opportunities I have been offered at the University and wonderful colleagues who have supported me on this journey."
Find out more about the University of Reading's award winning Technology Enhanced Learning environment here.