Reading in the news - Thu 6 Aug
06 August 2020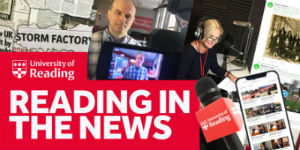 COVID-19: expert comment on the coronavirus outbreak
Dr Simon Clarke (Biological Sciences) is quoted in The Guardian (print also) for a piece on virus transmission in teenagers and young adults in the context of schools and universities re-opening.
Further coverage of a paper by Professor Uma Kambhampati (Economics) about women political leaders handling the pandemic better than male peers is reported in Forbes.
The world beneath our feet: PhD student Nerea Ferrando (Geography) has written a blog post for Earthwatch Europe looking at soil health and its impact on the environment.
Other coverage
The Jewish Tribune (print) reports on four year old Nadim Shamma-Sourgen, son of Dr Yasmine Shamma (English Literature), becoming one of the youngest ever published authors.
PhD researcher Akshay Deoras (Met) is quoted in articles about record rainfall levels in Mumbai in Hindustan Times and East Coast Daily. Akshay also participated in a panel discussion on mid-monsoon review for The Weather Channel, which was live streamed on their Facebook and Twitter pages.
Care Appointments has republished an article in the Conversation by Dr Mark Dallas (Pharmacy) about 10 factors linked to increased risk of Alzheimer's Disease.
Denbighshire Free Press (print) and Falmouth Packet (print) report on the news that Reading student Lauren David has joined the NFU for its Student & Young Farmer Ambassador Programme.
Farming UK reports on the closing deadline for the Sustainable Agriculture Bursary, which is open exclusively to agriculture undergraduates at the Royal Agricultural University and the University of Reading.
Reading's involvement in a study into the health benefits of blueberry polyphenols for middle aged adults is reported in Nutra Ingredients-USA.