#UniForReading: Working together for our town
07 August 2020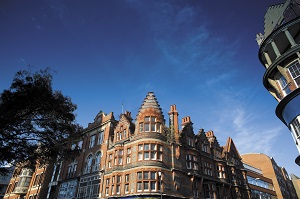 The University of Reading has renewed its commitment to be a civic institution and work together for the benefit of the town and its residents.
As a new series of activity begins highlighting the work that the University of Reading is doing in partnership with local businesses, charities and organisations, several senior appointments will see staff work more closely to tackle areas of particular public need.
The first appointment will see the Vice-Chancellor, Professor Robert Van De Noort, become a Patron of the local homelessness charity Launchpad Reading. The charity was formed by Reading students in 1979 and has been a presence in the town tackling homelessness ever since.
Read more here: https://archive.reading.ac.uk/2020/August/pr845839.html
#UniForReading
The new appointments are part of the University of Reading's ongoing commitment to be a civic university and an integrated part of Reading and the wider region.
Over the course of the week beginning 10 August, the University will be sharing examples of how staff and students already make a significant positive contribution to their communities.
Professor Robert Van De Noort, Vice-Chancellor of the University of Reading said:
"The role of universities in civic life is more crucial than ever, through our research, our partnership with local communities and businesses, and through the many ways that our staff and students contribute to Reading.
"My role at Launchpad is just a small part of a greater connection between the University and the town, making the University not just of Reading, but for Reading too."
Social scientist to lead University's research with local communities
Dr Sally Lloyd-Evans, who has led the Whitley Researchers collective for the past five years has been appointed to become the first holder of a Public Engagement with Community Research Fellowship. The new role has been created to recognise the important role that working with members of the public in research plays in understanding issues that matter to local communities.
Read more here: https://archive.reading.ac.uk/2020/August/pr845853.html
Reading students helping most vulnerable local young people
Students from the University of Reading have been volunteering during lockdown to help some of the most vulnerable young people in the town.
The Community Champions scheme was created by the University in response to the pandemic and based on requests for help from community organisations in Berkshire.
70 students have signed up to the new scheme which match-makes potential volunteers and Berkshire-based charities to help meet local needs.
Read more here: https://archive.reading.ac.uk/2020/August/pr845984.html
Students and local businesses benefit from University internship scheme in lockdown
The Reading Internship Scheme offers students 4-8 week project-based placements with local small to medium-sized enterprises (SMEs), which would otherwise be hard to find. Due to COVID-19, these placements have been fully funded this year, helping local businesses through a challenging period.
Read more here: https://archive.reading.ac.uk/2020/August/pr846200.html
Refugees use poetry to reconnect with home thanks to Reading workshops
Dr Yasmine Shamma, from our Department of English Literature, has been running poetry writing workshops this summer, in conjunction with Reading Refugee Support Group, to help Reading refugees celebrate their identities and reconnect with their memories of home.
Read more here: https://archive.reading.ac.uk/2020/August/pr846268.html
University helping to put people power at heart of tackling post-Covid climate change locally
Civic and community groups will benefit from the support of the University of Reading to tackle climate change in the Thames Valley region. The newly created Citizens UK alliance for the region, which includes Berkshire, Oxfordshire and Buckinghamshire, brings together community members to bring about social change, and will have climate change as one of its key focuses.
Read more here: https://archive.reading.ac.uk/2020/August/pr846287.html
Get involved
Find out more about the ways that the University works in partnership with Reading organisations here and businesses here, and the economic and social contribution that the University makes to the Thames Valley region here.
Join in the conversation on social media using #UniForReading