Reading in the news - Fri 7 Aug
07 August 2020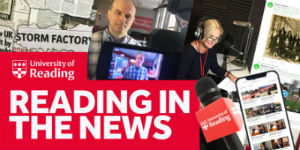 #UniForReading: reaffirming our role as a civic university
The Vice-Chancellor has been announced as a new patron of local homeless charity Launchpad Reading. The announcement is the first in a series of news stories about ways that the University is working in partnership with local organisations and businesses. Read our round up story here.
Reading Chronicle reports on t-shirts worn and signed by Reading FC players bearing the #ReadingTogether logo in memorial for three victims of the attack in Forbury Gardens in July 2020. The logo was designed by the University of Reading and made available for use by organisations and businesses to show solidarity following the attack.
COVID-19: expert comment on the coronavirus outbreak
Expert commentary on new research about asymptomatic carriers and 'viral shedding', with Dr Simon Clarke (Biological Sciences) quoted in BBC News online and Prof Ian Jones (Biological Sciences) in Newsweek.
Dr Simon Clarke is also quoted in Yahoo! News about schools reopening.
National Teaching Fellows: Advance HE have announced new recipients of their National Teaching Fellowships, including Vicki Holmes (CQSD) and former colleague Prof Emma Mayhew. Read our news story here.
Other coverage