#UniForReading: Social scientist to lead University's research with local communities
10 August 2020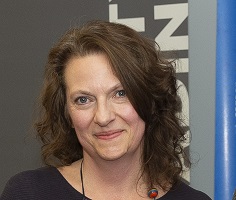 An award-winning researcher who focuses on working with local communities has been appointed to lead the University of Reading's public engagement.
Dr Sally Lloyd-Evans, who has led the Whitley Researchers collective for the past five years has been appointed to become the first holder of a Public Engagement with Community Research Fellowship. The new role has been created to recognise the important role that working with members of the public in research plays in understanding issues that matter to local communities.
Alongside her work helping local communities to co-design academic research that is important to them, Dr Lloyd-Evans will be leading on the University of Reading's strategic commitment as a civic university, working for and alongside the town of Reading.
Dr Sally Lloyd-Evans said:
"I'm delighted to have been given the opportunity to take on this new role and expand the work that I've been doing in my career.
"Over the past five years, I've been involved in training and empowering local residents and young people as researchers which has enabled Reading communities and organisations to understand and shape their local services. The fellowship gives me dedicated time to share learning and facilitate more University colleagues, students and local residents to champion community-based research that supports the needs of our diverse communities in Reading.
"One of my first priorities is to harness our existing expertise on public engagement, community-led research and knowledge exchange across Berkshire. There are many inspirational examples of best practice in our communities and we need to develop a collective framework for sharing our experiences and knowledge so that we can better respond to the societal challenges we face together.
"I'm keen for our students to take a key role in leading this engagement work and I'm hoping to work with RUSU, our Careers team, the Public Engagement Network and our new Student Community Champions to contribute to the post Covid-19 recovery to support local communities and shape our environmental sustainability strategy."
Professor Parveen Yaqoob, Deputy Vice Chancellor and Pro Vice Chancellor for Research and Innovation at the University of Reading said:
"Sally's commitment to public engagement makes her the ideal person to lead the University of Reading in this area as we make significant strides to be a university for Reading. Research has the power to make a demonstrable difference to communities, by understanding local needs and providing clear evidence for a need to change. I am very much looking forward to seeing how Sally helps us all to broaden our scope and work more closely with our neighbours around Reading and be a beacon for public engagement in the UK research community."
Dr Sally Lloyd Evans has received awards for her work with the Whitley Researchers. In 2018, she received the University's Research Engagement and Impact Award, and a Reading University Students' Union (RUSU) Excellence Award for teaching excellence in science in 2019.
#UniForReading
The University of Reading is proud to be part of the town of Reading and makes a valuable contribution to the local area. We work closely with local community groups and organisations to support the wider objectives of the town.
Find out more about the ways that the University works in partnership with Reading organisations here and businesses here, and the economic and social contribution that the University makes to the Thames Valley region here.
Join in the conversation on social media using #UniForReading