Reading in the news - Tue 11 Aug
11 August 2020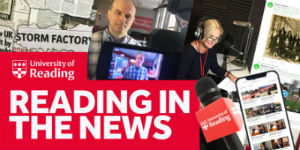 #UniForReading: reaffirming our role as a civic university
Reading Chronicle reports on Dr Sally Lloyd-Evans (GES) being appointed to the University's Public Engagement with Community Research Fellowship. Dr Lloyd-Evans was also interviewed on BBC Radio Berkshire. Read our news story.
COVID-19: expert comment on the coronavirus outbreak
Professor James Reade (Economics) spoke to CBC Radio in Canada (27 mins in) about home advantage in football while games are played in empty stadiums. Taipei Times also covers the research, while the Guardian includes it in a column rounding up sports headlines.

Dr Simon Clarke (Biological Sciences) was interviewed on LBC Radio about the UK's test and trace system.
University Challenge: A Reading team competed on University Challenge on BBC Two last night - sadly being defeated by Birkbeck, London. Their appearance was mentioned on Heart Radio.
Sea ice-free Arctic: A study co-authored by the University of Reading, using data on sea ice loss thousands of years ago to predict the Arctic may be sea ice-free by 2035, is reported by Phys.org, Science Daily and Heritage Daily. Read our news story.
Satellite weapons: Professor Mike Schmitt (School of Law) and PhD student RAF Squadron Leader Kieran Tinkler are quoted in The Economist on the unclear laws around satellites that have the ability to destroy other satellites while in orbit.
Other coverage