Rename Classics to make it more inclusive
12 August 2020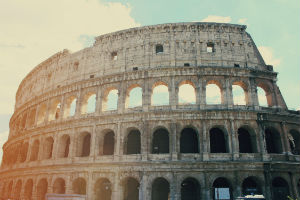 Acknowledging diversity that existed in ancient civilisations could help make studying them more inclusive in today's school and university classrooms, according to recommendations made following a gathering of global experts.
A recent workshop hosted by Classics researchers and lecturers at the University of Reading reflected on how to make the discipline better able to contribute to today's multicultural societies. It discussed how challenging assumptions about the roles black and ethnic minority (BAME) people played in history, such as by highlighting distinguished historical BAME figures revealed by research, could help change perceptions of the ancient and modern world.
Among the recommendations from those who attended the online workshops in June, including dozens of teachers and students from all over the world, were widening the variety of texts used in teaching Classics, and even potentially renaming the Classics discipline.
Suggested alternative names included Ancient World Studies and Ancient Mediterranean Studies - although each of these names bring their own questions and problems.
Professor Barbara Goff, from Reading's Department of Classics, who co-organised the workshop, said: "The ancient world was a lot more diverse than many people appreciate. Greece and Rome did not simply found a European tradition that was 'white', but were multicultural, diverse and mobile. People whom we might now call BAME were prominent in ancient societies.
"We must do more to promote new ideas about ancient history and its significance for contemporary cultures. Changing the way it is taught to schoolchildren and university students, as well as increasing diversity among those researching it, is a key part of that.
"The term 'Classics' has connotations of privilege due to it being mainly taught in public schools and not in state schools. For this reason, many students may not feel it's for them. Renaming Classics could therefore be an effective way of rebranding it to appeal to a much more diverse range of people. This would not solve the problem on its own of course, but it is an example of where changing perceptions might boost inclusivity."
Research at Reading has long highlighted the role of wealthy and distinguished BAME figures in Roman Britain.
In 2010 Professor Hella Eckardt used archaeological forensic techniques to reveal that high-status Africans lived in 4th-century AD York. Analysis of a skeleton found in York in 1901 with jewellery and other valuables - leading her to become known as Ivory Bangle Lady - suggested she was of North African descent and had a diet associated with wealth.
Reading expertise also helped set the record straight following a social media row that erupted in 2017 due to a BBC cartoon depicting a black Roman soldier. Professor Matthew Nicholls pointed to documents showing soldiers were recruited from across the Roman Empire, as well as one account explicitly describing Emperor Septimius Severus, who was himself from Libya, inspecting his troops - including an Ethiopian soldier - on Hadrian's Wall.
More recently, Reading's Professor Katherine Harloe spoke on Radio 4's Word of Mouth this month about the debate among classicists over racialised hierarchies based on skin colour in the ancient world.
She also discussed modern ideas about ancient Greek and Roman culture, and the work that some classicists are doing to explore how whitewashed portrayals of ancient civilisations are bolstering modern-day prejudices.
Professor Harloe said: "Classics is often seen as the study of dead, white European males, by – often dead – white, European males. There is some truth in that portrayal, but studying the ancient past can and should be about more than this.
"It is important for Classicists to counter rewritings of history that have airbrushed out diversity and discounted the contributions of BAME figures in scholarship. Attending to our history in all its complexity is necessary to change outlooks and allow more people to connect with the past and the study of Classics."
The recent two-day workshop, entitled 'Towards a More Inclusive Classics', was co-organised by Professor Goff and Dr Alexia Petsalis-Diomidis at the University of St Andrews, and was hosted online by the Institute of Classical Studies, on June 25-26.
It followed on from a 'Decolonising Classics' workshop held by Professor Harloe and Reading colleague Professor Rachel Mairs in 2018. Professor Mairs is one of the founders of 'Everyday Orientalism', an online platform which debates issues of inclusivity in the study of ancient Egypt, and which is hosting a new series of online talks.
The decolonising events focused on prominent issues in the Black Lives Matter movement, which has placed increased scrutiny on diversity in all parts of modern society and prompted debate about action that should be taken to promote inclusivity in white-dominated environments.
Following the events, a working group is being set up at Reading linking the departments of Classics and Archaeology to investigate the inclusivity of their courses. A report will also be produced based on the discussion to suggest ways to make the teaching of Classics more inclusive.