Reading in the news - Wed 12 Aug
12 August 2020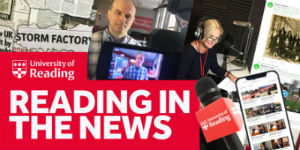 #UniForReading: reaffirming our role as a civic university – find out more.
COVID-19: expert comment on the coronavirus outbreak
Dr Simon Clarke (Biological Sciences) comments on findings that Stockholm had a similar level of covid cases to London, despite different lockdown measures. BBC News, Daily Mail, Newsweek, and multiple other outlets.
Dr Clarke interviewed by Sky News and RT News about a new Russian-developed covid vaccine.
Dr Clarke interviewed by BBC 5 Live on a study showing older children more likely to transmit covid that primary school pupils. Also quoted in the Guardian and MSN News
Other news:
Professor Ed Hawkins (Meteorology) quoted in a Wired article on the heatwave and climate change. BBC Weather reports that our weather station on campus was the hottest in the south.
Professor Parveen Yaqoob told Heart Radio that student life will feel different at first when students return to campus this autumn.
Reading's team defeated on University Challenge on BBC Two – perhaps our defeat was because we were up against the quiz's 'hottest contestant ever' suggests the Daily Mail.
More coverage of study co-authored by the University of Reading to predict the Arctic may be sea ice-free by 2035, in the Independent and Yahoo News. Read our news story.
The Reading Chronicle reports on how the University Library helped its counterpart in Hiroshima after World War II.