Reading in the news - Thu 13 Aug
13 August 2020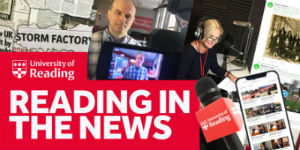 #UniForReading: reaffirming our role as a civic university - find out more.
Vice Chancellor, Prof Robert Van De Noort, spoke to BBC Radio Berkshire about his new role as Patron of Launchpad Reading, a local homeless charity. Read our news story.
Romilly Hryczanek, a first year student in Chemistry who took part in our new Community Champions Scheme, spoke to BBC Radio Berkshire about her experience of volunteering with a local charity during lockdown to help vulnerable young people in the town. Read our news story.
COVID-19: expert comment on the coronavirus outbreak
Dr Simon Clarke (Biological Sciences) spoke to talkRadio about the currently low UK death rate due to COVID-19 and what factors might change this. Comments from Dr Clarke were also featured in a Business Insider article on herd immunity.
Comments from Dr Dyan Sellayah (Biological Sciences) were featured in a Daily Mail article about how being overweight can lead to more severe cases of COVID-19.
Prof Ian Jones (Biological Sciences) was quoted in The Guardian (print also), Metro and several other news sites on the new Russian-developed COVID vaccine; and in The Daily Express on a second wave in China.
A-levels and Clearing: Prof Parveen Yaqoob, Deputy Vice-Chancellor, appeared on BBC Newsnight (from 6m20s) to discuss last-minute government changes to A-level results appeals process. Prof Yaqoob's comments also appeared in the Guardian, Daily Express, Heart Berkshire and in local media via Press Association.
Prof Mark Fellowes (Pro-Vice Chancellor - Academic Planning & Resource) spoke to BBC Radio Berkshire in both the morning and evening yesterday on the same topic - and again this morning.
BBC South mentioned that they will be doing a live Q&A with William Bailey-Watson (Institute of Education) on A-level results day and put out a call for viewers to send in their questions.
Finally, Vice Chancellor, Prof Robert Van De Noort, spoke to BBC Radio Berkshire this morning about how life at the University has been impacted since the coronavirus outbreak and touched on A-level results and Clearing.
TV studio at TVSP: BBC Berkshire Online, Heart Berkshire, The Business Magazine and The Wokingham Paper report on the news that the University is submitting plans for a new purpose-built TV studio at the Thames Valley Science Park. Read our news story.
A tropical night: Stephen Burt, a visiting fellow in our Meteorology department, spoke to The Breeze about Reading's first tropical night for 25 years, recorded on Tuesday night. The item was played on news bulletins throughout the day yesterday and mentioned on ITV News Meridian, BBC Radio Berkshire and in The Wokingham Paper and The Reading Chronicle. Comments from Stephen on the difficulty of predicting thunderstorms have also been played on The Breeze news bulletins this morning.
Dr Roger Brugge (Met) was quoted in Getreading and The Maidenhead Advertiser also.
Other news: