Reading in the news - Fri 14 Aug
14 August 2020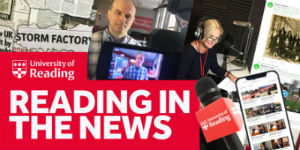 #UniForReading: reaffirming our role as a civic university – find out more.
#WeAreTogether: Reading's work to help during the COVID-19 crisis. See our round-up here.
COVID-19: expert comment on the coronavirus outbreak
A-Level results day/Clearing: Visit our Clearing website.
Summer heatwaves: Stephen Burt and Professor Ed Hawkins (Meteorology) are quoted in the Times Weather Eye column on summer temperature records and the importance of citizen science projects to digitise data. Stephen Burt is also quoted in a Reading.co.uk piece on Reading's third hottest night on record this week. Read our news story.
Other coverage