Reading in the news - Tue 18 Aug
18 August 2020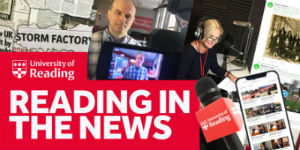 #UniForReading: reaffirming our role as a civic university - find out more.
Dr Yasmine Shamma (English Lit) spoke to BBC Radio Berkshire about the poetry workshops she has been running this summer, in conjunction with Reading Refugee Support Group, to help Reading refugees reconnect with their memories of home. The Reading Chronicle also reports on the news. Read our news story.
The Wokingham Paper (print also) reports on the appointment of Dr Sally Lloyd-Evans (Geography) to lead on public engagement with research at the University. Read our news story.
COVID-19: expert comment on the coronavirus outbreak
Dr Simon Clarke (Biological Sciences) spoke to talkRadio on vaccine development.
Professor Ian Jones (Biological Sciences) is quoted in The Guardian for an article on testing UK arrivals to cut quarantine times. The article is reproduced on Yahoo News and MSN News.
A-levels and Clearing: Prof Mark Fellowes, Pro-Vice-Chancellor for Academic Planning & Resources, spoke to BBC Radio 4, BBC Radio 5 Live, Good Morning Britain and BBC Radio Berkshire yesterday and today about the latest Government announcement on A-level results. Comments from Prof Fellowes were also played on BBC Radio 2 and regional BBC radio stations around the country. BBC Online also mentions Reading in this article.
Other coverage
An article on disappearing Arctic sea ice in LAD Bible features comment from Dr David Schroeder (Met).
The i (print) and Phys.org report on Reading research which has found that half of the world's oceans are already being affected by man-made climate change.
The Reading Chronicle reports on a party, supposedly involving University students, broken up by the police last night.
Multiple Middle Eastern outlets report on an event in Abu Dhabi discussing the UAE research program for rain enhancement, which is led by Prof Giles Harrison (Met), including Zawya.com.
A Recyling Waste World article on Coca-Cola's sustainability plans mentions the trial of the reusable bottle scheme we have on campus.
Horticulture Week reports on research Reading scientists are leading on regarding the production of zero-residue apples and strawberries.
University Busines (print) features an article written by Matthew White, director of campus commerce, on making campus COVID-secure.