Reading in the news - Mon 17 Aug
17 August 2020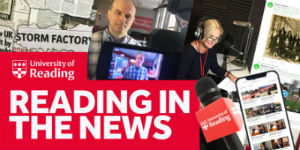 #UniForReading: reaffirming our role as a civic university - find out more.
BBC Radio Berkshire reports on the University's internship scheme giving students placements with businesses in the local area. Read our news story.
COVID-19: expert comment on the coronavirus outbreak
Dr Simon Clarke (Biological Sciences) spoke to Sky News about the latest infection data; Times Radio (1hr 15 mins) about testing and quarantine measures; the Daily Mail about flawed positive case numbers; the Daily Mail again on food factories being hotspots for positive cases; Yahoo News on herd immunity; The Breeze FM about vaccine development; and talkRADIO about the UK's relaxation of lockdowns.
Professor Ian Jones (Biological Sciences) is quoted by MSN News on approaches to wiping out viruses; and Medical News Today on whether COVID-19 is likely to be a seasonal virus.
Noi in Moldova quotes Dr Sakthi Vaiyapuri (Pharmacy) on the links between blood groups and COVID-19 susceptibility.
Innovative teaching: Times Higher Education features Dr Madeleine Davies (English Literature) as one of three lecturers explaining how they have adapted teaching methods to bring the best out of their students.
Farming careers: Farming Today on BBC Radio 4 interviewed Dr David Rose (Agriculture) about careers in agriculture, on the back of A-Level results day.
Agroforestry: The Sunday Telegraph report on research led by Alexa Varah (Agriculture) into how planting trees in amongst crops can boost pollination. Read our news story.
Refugee gardening: Dr Yasmine Shamma (English Literature) writes a piece for the Independent on how people living in refugee camps often turn to gardening to alleviate boredom.
Other coverage
The East Anglian Daily Times and Ipswich Star report on the Guest winner of the Department of Meteorology's Weather Game, who lives in Ipswich but is soon to start a Master's at Reading. Read our news story.
The Sunday Mirror and MSN News quote Dr Anna Horwood (Psychology) on how to prevent eye fatigue caused by staring at a computer screen for long periods.
The Next Web republishes a piece written for The Conversation by Professor Hannah Cloke (GES) about predicting thunderstorms and flooding.
The Australian Times republishes a piece about plant-based diets written for The Conversation by doctoral researcher Taibat Ibitoye (Food & Nutritional Sciences).
Entertainment Daily mentions that ITV weather presenter Laura Tobin met her husband at the University of Reading, in an article on her celebrating her 10th wedding anniversary.
In an obituary for the late senior British civil servant, historian and Falklands War whistleblower Clive Ponting, BBC Radio 4 mention that he studied at the University of Reading.