Reading in the news - Thu 20 Aug
20 August 2020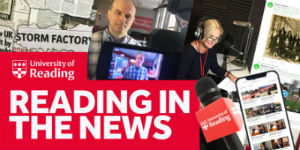 COVID-19: expert comment on the coronavirus outbreak
Dr Simon Clarke (Biological Sciences) spoke to talkRadio this morning about the ONS infection survey and what that will tell us about the spread of COVID. Dr Clarke is also quoted in The Daily Mail for an article on a study which has found that children do spread the disease; and in an Evening Standard article on the use of face masks in offices - also reported on Yahoo News UK.
A-levels U-turn: Pro-Vice-Chancellor Professor Mark Fellowes spoke to Newsnight from the Clearing call centre about how Reading is handling the aftermath of the government's belated announcement on A-level grading. The Express followed up the Newsnight piece with an article on MP John Redwood claiming the Government did speak to universities ahead of the A-levels u-turn.
BBC South mentioned that they will be doing a live Q&A with Prof Helen Bilton (Institute of Education) on GCSE results day and put out a call for viewers to send in their questions. Prof Bilton also spoke to BBC Radio Berkshire about the benefit of using teacher grades as opposed to exams.
Women leaders: Prof Uma Kambhampati (Politics & International Relations) was interviewed by BBC News 24 on her research which has shown that countries with female leaders appear to have dealt better with the COVID crisis. The research is also covered by The Spectator, Harper's Bazaar, Business Insider, MSN and Televisor.
Space project boosting sustainable development: Reading is involved with two projects which the UK Space Agency has granted funding for, announced on GOV.UK. These projects, two of 10, have the potential to provide solutions to the world's biggest development problems by using the latest and most high-tech space technologies. Dr Maria Noguer, from the Institute for Environmental Analytics, spoke to BBC Radio Berkshire (36 mins in) and the news was reported in ADS Advance, Wired Gov and Edge UG. Read our news story.
Other coverage
BBC South reports on the story of Annabel Barker, a student who has earned her place at Reading but requires additional support due to her disability.
Prof Richard Allan (Met) spoke to The Independent about how the extreme weather has been impacting wheat yields in the UK. Also reported on Yahoo News UK.
Dr Fred Davis (Chemistry) is quoted in this Newsweek article on the safety concerns of using BPA, an industrial chemical, to make items such as plastic bottles.
East Anglian Daily Times (print) reports on Ipswich man, Aaron Readle, winning the weather forecasting game run by the University.
Irish Farmers Journal mentions a podcast with Dr David Rose (SAPD) about the barriers to new technology adoption on farms.