Reading in the news - Tue 25 Aug
25 August 2020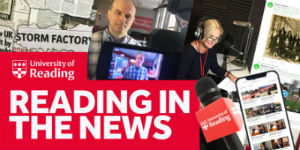 COVID-19: expert comment on the coronavirus outbreak
Dr Simon Clarke (Biological Sciences) is quoted widely about a case of a re-infection of Covid-19, including the Telegraph, Mail Online, The Sun, Independent, New Scientist and Stuff New Zealand, and spoke to BBC Radio 2, BBC Radio 5 Live and BBC Scotland.
Dr Clarke is also quoted in CNN Online about schools returning in September, and spoken to Sky News (no link).
Dr Paul Jenkins (Psychology) is quoted in the Sun about help for people with eating disorders following lockdown, taken from an article in the Conversation.
Further coverage of Professor James Reade and Dr Carl Singleton's research on football and Covid-19 is covered in the National Scotland.
Professor Uma Kambhampati (Economics) spoke to BBC Berkshire about her research into the effectiveness of women leaders in the Covid-19 pandemic.
Storm Francis: Professor Hannah Cloke (Geography) is quoted in an article for the Guardian as Storm Francis affects the UK and Ireland.
Republican National Conference: Newsweek reports on the US Republican party's conference, and how the choice of speakers highlights a rift between the President and party. Dr Mark Shanahan (Politics and IR) is quoted.
Other news:
German title Der Spiegel looks at how Russian nerve agent Novichok, which is suspected to have been used to poison a Russian politician who is critical of Putin. Professor Gary Stephens (Pharmacy) is quoted.
An article in the Express picks up comments about the UK being unprepared for deadly heatwaves in the future, taken from a piece by PhD researcher Chloe Brimicombe for the Conversation.
RIBA have announced their judging panel for their 2020 student awards, including UoR lecturer and architect Oliver Froome-Lewis.
A UoR Spanish and History graduate Jennifer Brooks is quoted in Forbes about wanting to work in the environmental sector due to her concerns over climate change.
European Scientist reports on sustainable food plans in the EU, and notes a study co-authored by Dr Philip Jones (Agriculture) suggesting that the UK entirely moving to organic farming without any change in diet would increase the need to import food.
Dr Barbara Goff (Classics) spoke to BBC Berkshire (and here) about her life working in classics.
FE News reports on the impact of Covid-19 on further and higher education, and mentions the University of Reading's expected shortfall in income and the potential impact on jobs.
A letter in the Psychologist from PhD student Hannah Morris-Bankole discusses a new study currently looking at psychological support for people with Multiple Sclerosis and other neurodegenerative diseases.
Dr Tara Pirie (Biological Sciences) spoke to BBC Berkshire and discussed the move of a camel skeleton into the new Health and Life Sciences Building where the Cole Museum will be sited.
<!--[if !supportLists]-->