Reading in the news - Mon 24 Aug
24 August 2020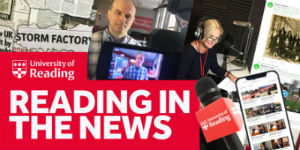 COVID-19: expert comment on the coronavirus outbreak
Prof Helen Dodd (Psychology) comments on how to prepare children to return to school following lockdown, in The Times.
Dr Simon Clarke (Biological Sciences) is quoted in the Times about possible ways to limit any spread of Covid-19 while hugging.
Dr Clarke has spoken to BBC Radio 5 Live and again to answer listeners questions about the risk of Covid-19 to children following the PM urging schools to return in September. Dr Clarke also spoke to TalkRADIO, LBC and BBC Hereford and Worcester.
Comments by Dr Clarke about increased cases is mentioned in the New Scientist, and Dr Clarke spoke to BBC Radio 4's PM programme, and LBC about the R0 rate going up.
Professor Ian Jones (Biological Sciences) is quoted in the Independent (in digital print edition) on comments that the pandemic will be over within two years.
A-levels/Clearing: Comments by Professor Mark Fellowes (Pro-Vice-Chancellor for Academic Planning and Resource) following the change in the A-level grading system are reported in the New York Times online.

Greenland ice: Further coverage of a new study showing Greenland ice melting hit a new high in 2019 due to warmer temperatures, including comments by Professor Ed Hawkins (Meteorology) who was not involved in the study, in Carbon Brief, BBC Science Focus, and the Ecologist.

Other news:

<!--[if !supportLists]-->