Reading in the news - Fri 21 Aug
21 August 2020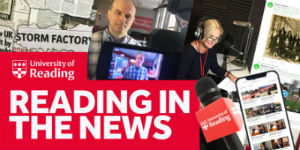 COVID-19: expert comment on the coronavirus outbreak
Dr Simon Clarke (Biological Sciences) quoted by Metro, i News, New Scientist on claims by Matt Hancock that households mixing, not workplaces, are the root of rising UK covid cases.
Dr Clarke counters claims by a new study suggesting children may be 'super spreaders' in Daily Mail
Dr Clarke spoke to BBC Northern Ireland about the UK's infection rate.
Dr Al Edwards (Pharmacy) spoke to CNBC Europe about how increased travel is likely to increase infection rates.
Professor Ian Jones (Biological Sciences) comments to Reuters (and used by media worldwide – such as Daily Mail), on new trials for a Russian-made vaccine.
A-levels/Clearing:
Professor Helen Bilton (IoE) took part in a TV Q&A with BBC South on GCSE results day.
Professor Mark Fellowes (Pro-Vice-Chancellor for Academic Planning and Resource) spoke to BBC Radio 5 Live and BBC Radio Berkshire about the challenges universities face in light of the government pledging to try and allow all students to study at their first choice university following the change in the A-level grading system
<!--[if !supportLists]-->

Greenland ice: Professor Ed Hawkins (Meteorology) comments on a new study showing Greenland ice melting hit a new high in 2019 due to warmer temperatures. Covered in Sky News, The Times, Daily Mail, MSN News, AOL, and hundreds of news websites (e.g. Herald) via Press Association.

Russia poisoning: Reuters quotes Professor Gary Stephens (Pharmacy) about the effects of poison novichok in a piece highlighting Russian opposition politicians who have been poisoned. Quote used by media worldwide, such as Daily Mail

Heatwave deaths: A Conversation article by Geography and Environmental Science PhD student Chloe Brimicombe, highlighting the UK's 'woeful' lack of preparation for heatwaves, is republished by Yahoo News, Big News Network (Australia), Foreign Affairs (New Zealand)

Other news:
Reading Chronicle (in print) makes plans for a new TV studio at Thames Valley Science Park its front page story. Read our news story.
BBC Radio Berkshire interviewed Dr Darius Wainwright (History) about the donation made by a librarian at the University of Reading in 1951 to the University of Hiroshima after WWII. Read the UoR twitter thread that brought the story into the public eye.
Professor Chris Scott (Meteorology) spoke to BBC Radio Berkshire about a citizen science project to recover old weather data.
A student with cerebral palsy, who has gained a place at Reading but has not been given funding by Surrey County Council to allow her carer to live with her in university accommodation, was interviewed on BBC Radio Berkshire. The University is engaging with the student to find a solution.
Fruit Net and Farming UK covers news of a new 'robot-run farm' in Kent, involving the University's School of Agriculture.
Sowetan Live reports that a senior South African police officer is 'loving' her MBA studies at Henley Africa.
Sputnik Radio (Russia) spoke to Professor Hannah Cloke (Geography/Meteorology) on how to prepare for floods.
Akshay Deoras (Meteorology) comments on improvements to rainfall forecasts in India. Hindustan Times
<!--[if !supportLists]-->