Reading in the news - Wed 26 Aug
26 August 2020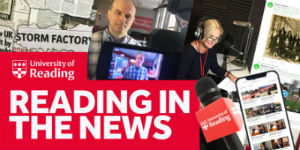 #WeAreTogether: Reading's work to tackle the coronavirus crisis
Young children of working parents improved behaviour during lockdown as parents stayed home, research led by Prof Helen Dodd (Psychology) found. Covered widely including The Times (print), Daily Mail, Heart Radio and MSN UK. Read our news story.
COVID-19: expert comment on the coronavirus outbreak
Dr Simon Clarke (Biological Sciences) comments on news a man has been infected twice with a coronavirus, interviewed by RT News and quoted in the Telegraph and Pharma Times; he is quoted in New Scientist on the topic of transmission in the workplace and in the New Zealand Herald Online
Bloomberg covers the research by Prof Uma Kambhampati (Politics & International Relations) which has shown that countries with female leaders appear to have dealt better with the COVID crisis. Replicated on Yahoo News UK and The Washington Post.
Heatwave deaths: Prof Hannah Cloke (Geography) provided expert comment for this Telegraph article on the number of deaths reported during the heatwave in early August - she said this type of extreme heat is an effect of climate change.
Other news:
The National (print) and The Glasgow Times (print) cite Reading research in an article about the effect of empty football stands on players.
Prof Simon Potts (SAPD) is quoted in Business Insider, and multiple finance news sites, on the news that an American snack company has committed to become the first snack company to exclusively source its almonds from bee-friendly farmland across the globe by 2025.
Executive Grapevine mentions Henley Business School research in an article on the four-day working week.
BBC Radio Berkshire replay part of Professor Barbara Goff's (Classics) interview (from Monday) about the diversity of studying Classics at Reading today.
Euro-fresh Distribution mentions Reading is involved with an Innovate UK project that will deliver the world's first robotic farm in Kent.