Reading in the news - Thu 27 Aug
27 August 2020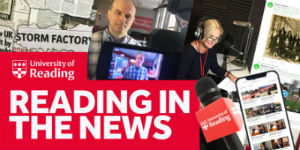 #WeAreTogether: Reading's work to tackle the coronavirus crisis
COVID-19: expert comment on the coronavirus pandemic
Dr Simon Clarke (Biological Sciences) was interviewed by Al Jazeera English on links between obesity and serious effects from COVID-19. He was also quoted in The Daily Mail in an article on outbreaks in food factories; New Scientist on facemasks in schools and The Herald on testing.
Prof Ian Jones (Biological Sciences) was quoted in The Daily Mail for an article on how blood thinning drugs may help patients with COVID-19 survive.
The Daily Mail quotes Dr Dyan Sellayah (Biological Sciences) in a story on links between obesity and serious effects from COVID-19.
Professor James Reade (Economics) interviewed by BBC Radio Berkshire on the impact of UEFA's financial fair play rules on English football clubs facing financial hardship due to the closure of stadiums.
Prof Carol Fuller (Institute of Education) was interviewed by TRT World on children going back to school next week.
Hindustan Times, Business World, Business Live South Africa and other international outlets cover the research by Prof Uma Kambhampati (Politics & International Relations) which has shown that countries with female leaders appear to have dealt better with the COVID crisis.
Other news
Capturing the intangible countryside - a film collaboration project between Prof Teresa Murjas (Film, Theatre and TV) and The Museum of English Rural Life is featured in The Countryman Magazine.
Horti Daily mentions Reading is involved with an Innovate UK project that will deliver the world's first robotic farm in Kent.
Lifehacker Australia writes an article on how to get a song out of your head, citing a Reading study which found that chewing gum can help get rid of 'ear worms'.