#UoRWay: 'Sense of normality' from in-person classes
01 December 2020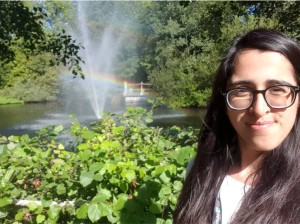 A final year student says her experience of life at the University of Reading has been 'different but enjoyable' with a mixture of online and in-person classes.
Summayah Ahmed, a third year Philosophy, Politics and Economics student, said she appreciated the 'normality' provided by in-person teaching, and the social life that was possible within her household group – in her case, a flat in halls of residence.
"Coming back to University after taking a placement year has been an interesting experience, to say the least!" she said.
"I was quite nervous as most of my course mates and friends had graduated, and due to COVID-19, I wasn't sure what to expect. However, the constant communications from the University have definitely helped resolve some of my worries.
"I was extremely worried about what the blended learning approach would look like. Thankfully, I still have in-person seminars, which means that there's still a sense of normality. And in online sessions, the professors are always asking questions and engaging with the students, which is great."
While opportunities for socialising have changed, a combination of support from flat mates and the University has helped Summayah find new ways to spend time outside of her studies.
"On the social side of Uni life, it's very different," she said.
"I came back into University accommodation and live with nine other 2nd and 3rd year students. I felt like I was a first year again, worried if we'd all get on.
"It's been great though - we spend a lot of time together, whether that's studying together, or playing board games like Monopoly or holding quiz nights together. The Home@Halls app has been great at giving us activities to do as a flat.
"Overall, I've really enjoyed my first term back at University."