Reading in the news - Wed 2 Dec
02 December 2020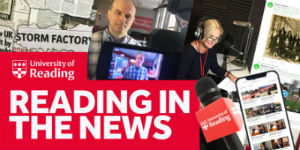 COVID-19: expert comment on the coronavirus pandemic
Dr Al Edwards (Pharmacy) is quoted in the

Independent

on immunity passports, and in

NewsWeek

about a request by vaccine developer Moderna for emergency approval by the US for the use of their mRNA vaccine.

Dr Simon Clarke (Biological Sciences) spoke to BBC Radio Berkshire about a parliamentary debate on the new tiered system coming into effect, and

TalkRADIO

and

BBC Radio Hereford and

Worcester about approval for the Pfizer vaccine for use in the UK.

Dr Helen Parish (History) is quoted in an article for

Sputnik News

about other times in history where Christmas celebrations have been restricted, and about starting celebrations earlier than usual following Dr Parish's article in

the Conversation

about putting up Christmas decorations early.
#WeAreTogether: Reading's work to tackle the coronavirus crisis. Read our round-up
Further reports in

BBC South Today TV

,

ITV Meridian online

,

Reading Chronicle

,

Reading.co.uk

and

BBC Radio Berkshire

about the start of its mass asymptomatic testing programme for staff and students. Deputy VC Professor Parveen Yaqoob is quoted.
Building a cabinet: Dr Mark Shanahan (Politics and IR) spoke to CNBC (and online) about US President-elect Joe Biden's nominees for various cabinet positions, and balancing factions in the Democratic Party.
Other coverage
The Economist

quotes Professor Rosa Freedman (Law) following a High Court case about informed consent and puberty-blocking drugs to treat gender dysphoria.

A

Guardian

live blog on the collapse of Debenhams features comments from Professor Adrian Palmer (Henley Business School).

A special report in

The Times

on the future of retail quotes Professor Moira Clark (Henley Business School).

The British Ecological Society's The Niche member magazine features on its front page research by PhD researcher Theresa Robinson about the conservation of the Fody, a native bird to Mauritius devastated by an oil spill in August.

Phys.org

cover new research about the way cancer cells behave. Lead author George Butler is quoted.

Nursery World (

in print

) cover the EIT Food-funded See and Eat project to help children become more familiar with fruit and veg. Professor Carmel Houston-Price and Dr Natalie Masento (Psychology) are quoted.

Further coverage of research into a way of making bread that makes flavanols more readily accessible in Snack World (

in print

). Read our

news story here

.

EIT Food

have announced that the University of Reading will be running an MA in Food Systems after co-developing the programme with European University partners.

The Hindu

report on a series of webinars on climate science and oceanography being held by Andhra University, which includes UoR academics.

Claire Hewitt (Henley Business School) is quoted by

HRGrapevine

on whether classroom L&D will ever return.

Further coverage of a Henley Business School report on four day working weeks is covered by

Dealbreaker

.

An article in

the Conversation

looking at Vice Chancellor pay in Australia compared to UK salaries from 17/18 notes UoR's ratio between highest and average pay.

Mail Online

report comments made following the sacking of a teacher at Eton College, and note that Provost Lord William Waldegrave is Chancellor of the University of Reading.

A community charging station 'POWRPOD' is covered in

Retail365

, which notes that the University of Reading has several on campus.

The

Portsmouth News

spoke to rollercoaster designer Michelle Hicks, who notes she was originally inspired to pursue her career after attending a lecture at UoR on the topic.

An article in

Mail Online

about Rolling Stone guitarist Ronnie Wood and his adopted son Jamie notes that Wood junior's eldest child is a student at UoR.