Community pharmacies caring for people with dementia 'way beyond' expectations during pandemic
02 December 2020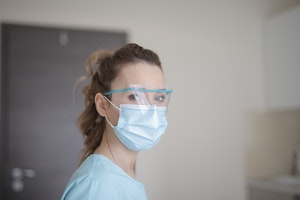 Community pharmacy staff have been providing support for people living with dementia 'way beyond' expected service during the COVID-19 pandemic, according to new research.
A paper published in Research in Social and Administrative Pharmacy found that pharmacy teams in England have been providing additional care and support for people with dementia, sometimes putting their own health and wellbeing at risk.
In a series of in-depth interviews with team members from 14 pharmacies across England, respondents explained how the loss of normal interactions between staff and dementia patients had led to an identification of a key need to be addressed.
In the majority of cases, respondents shared how their teams had gone beyond their normal range of duties to ensure that people with dementia were provided with additional support.
Dr Rosemary Lim, lead author of the paper and pharmacist researcher in resilient healthcare and medication safety at the University of Reading said:
"The picture that we overwhelmingly see from our interviews is that community pharmacy teams care about their customers/patients and were willing to go way beyond their normal duties to support them.
"In one case, we heard from a team who stayed until 2am to sort through a backlog of work to ensure that people with dementia had their relevant medication ready for them in a timely manner. In another case, staff were willing to make personal deliveries because none of the additional support from Government was available."
Sally Farmer is a Regional Manager at Day Lewis Pharmacy in Burnham-On-Sea in Somerset . Sally, along with her colleagues, found that their workloads increased significantly as they had to adapt their care for people with dementia.
Sally said:
"When the [first] lockdown took place, we delivered prescriptions to every patient that we could. We had to get help from volunteer delivery drivers as well as our employed drivers to cope with the demand. The service was very important as obviously it meant we could ensure people with dementia were receiving their medicines, but also that we were checking in on them.
"Often our drivers are our eyes and ears on the ground for the welfare of these patients. Also the drivers may be the only person some of our patients see and they can stop for a few minutes to have a chat which is really important. Patients and their carers would also call the pharmacy and pay for items over the phone and we would deliver retail items if needed too.
"It's fair to say that our workload throughout the pandemic has been huge. My colleagues and I often deliver medicines to vulnerable patients outside of work hours and in our own time if it is urgent, but we feel that it is all part of trying to maintain our caring family culture at Day Lewis and still remember to keep an eye on our vulnerable patients.
"In one instance, we have had cases of antibiotics being prescribed for a person with dementia, but they do not realise it is at the pharmacy to collect. It feels like a small thing, but we would call them to let them know that they have an infection, and then ensure that they had their antibiotics delivered to them the same day. In another example, we have walked a person with dementia home from the pharmacy to make sure they get home safe when they are confused, and contacted their next of kin or the GP to let them know what is going on."
Full citation:
Lim, R.H.M., Shalhoub, R., Sridharan, B.K., 2020, The experiences of the community pharmacy team in supporting people with dementia and family carers with medication management during the COVID-19 pandemic, Research in Social and Administrative Pharmacy. DOI: 10.1016/j.sapharm.2020.10.005