Reading in the news - Thu 3 Dec
03 December 2020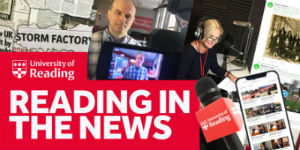 COVID-19: expert comment on the coronavirus pandemic
Dr Simon Clarke (Biological Sciences) spoke to LBC Radio, BBC Radio Scotland (also played out on regional Scottish stations) and BBC Radio Berkshire about the Pfizer vaccine announcement and the practicalities of rolling it out. Voice of America also spoke to Dr Clarke about the vaccine.
Prof Ian Jones (Biological Sciences) was interviewed for Russia Today news bulletins on the Pfizer vaccine.
Dr Al Edwards (Pharmacy) is quoted in this Asian Connections Online article on the Moderna vaccine.
#WeAreTogether: Reading's work to tackle the coronavirus crisis. Read our round-up
Hottest year on record: The Daily Mail reports on a report from the World Meteorological Organisation which says 2020 is on course to be the hottest on record. The article quotes Dr Pete Innes and Prof Len Shaffrey (both Met).
Dementia care: Research led by Dr Rosemary Lim (Pharmacy) has found that community pharmacy staff have been caring for people living with dementia 'way beyond' expectations during the COVID-19 pandemic. Independent Community Pharmacist, P3 Pharmacy, Training Matters and Pharmacy Magazine report. Read our news story.
Cancer cell movement: New research by Reading scientists has discovered more about how cancer cells spread through the body. Science Daily covers the story. Read our news story.
Melting of Greenland ice sheet: New Reading research has demonstrated how climate change could lead to irreversible sea level rise as temperatures continue to rise and the Greenland ice sheet continues to decline, report Science Daily, Phys.org and Environmental News Network. Read our news story.
Other coverage
Dr Andrew Ainslie (Agriculture) spoke to BBC Radio Berkshire about the news that Singapore has become the first country to approve lab grown meat.
Dr Karen Wicks (Archaeology) was featured in this New Scientist article on how Dogger Island survived the tsunami that separated Britain and mainland Europe.
Prof James Reade and PhD student (both Economics) co-wrote an article for EurasiaReview on the spread of Covid-19 and attending football matches in England.
Further coverage of a new book by Professor Ken Dark (Economics) which covers the study of a former convent excavated in Nazareth which he believes stands on the site of Jesus' childhood home, in CBN News.
Pro Landscaper Magazine (print) features an article by Tim Gill, an expert on children's outdoor play and visiting research fellow at the University of Reading.
Business Up North reports on the success of a Manchester based firm who has developed PowrPod charging stations - the article references that these stations are in use at the University of Reading.
GetReading reports on land previously owned by the University that is currently in dispute about its use between local residents and the new land owner.
University World News features an article on the viability of foreign branch campuses in Malaysia following the pandemic. The articles makes references to Reading's Malaysia campus.