Reading in the news - Fri 4 Dec
04 December 2020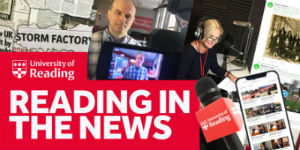 COVID-19: expert comment on the coronavirus pandemic
Dr Simon Clarke (Biological Sciences) is quoted by BBC News Online on a volunteer project exploring if certain foods could potentially treat Covid symptoms; RND and LZ Online (Germany) on the Pfizer vaccine; and spoke to BBC Radio West Midlands about the priority list for vaccines.
Dr Al Edwards (Pharmacy) is quoted by Newsweek on the possibility of side effects from Covid-19 vaccines; the Telegraph on the accuracy of mass testing; and BBC Radio Gloucester on the logistics of rolling out the Pfizer vaccine.
Professor Ian Jones (Biological Sciences) is quoted by Russia Briefing on the Sputnik V vaccine.
#WeAreTogether: Reading's work to tackle the coronavirus crisis. Read our round-up
Wokingham Paper reports on mass testing of students beginning at Reading ahead of the Christmas holidays.

Reading Chronicle reports on the latest figures published on the University's Covid-19 dashboard.

Planet Radio reports that South West Railway has been working with universities along its network, including Reading, to ensure students travelling home by train this Christmas can do so safely.
Heart Radio Berkshire reports on Reading's plans for the start of the spring term, including potentially staggered returns for students and more rapid testing.
Greenland ice sheet: More worldwide coverage of a study led by Reading meteorologists, showing Greenland's ice sheet is approaching a melting tipping point beyond which it will not regrow, in The Express, Daily Hunt, Financial Express, Hindustan Times, The Pioneer, (India), TVP (Poland), and Finanz Nachrichten (Germany). Read our news story.
Other coverage